Seoul, September 12: North Korean leader Kim Jong Un, accompanied by top military officials responsible for his country's nuclear-capable weapons and munitions factories, has arrived in Russia for a rare meeting with President Vladimir Putin. This summit has raised concerns in Western circles about the possibility of an arms deal between North Korea and Moscow for the ongoing war in Ukraine.
Kim's journey commenced when he boarded his personal train in Pyongyang on Sunday afternoon, as reported by North Korea's official news agency. He was joined by unspecified members of the country's ruling party, government, and military.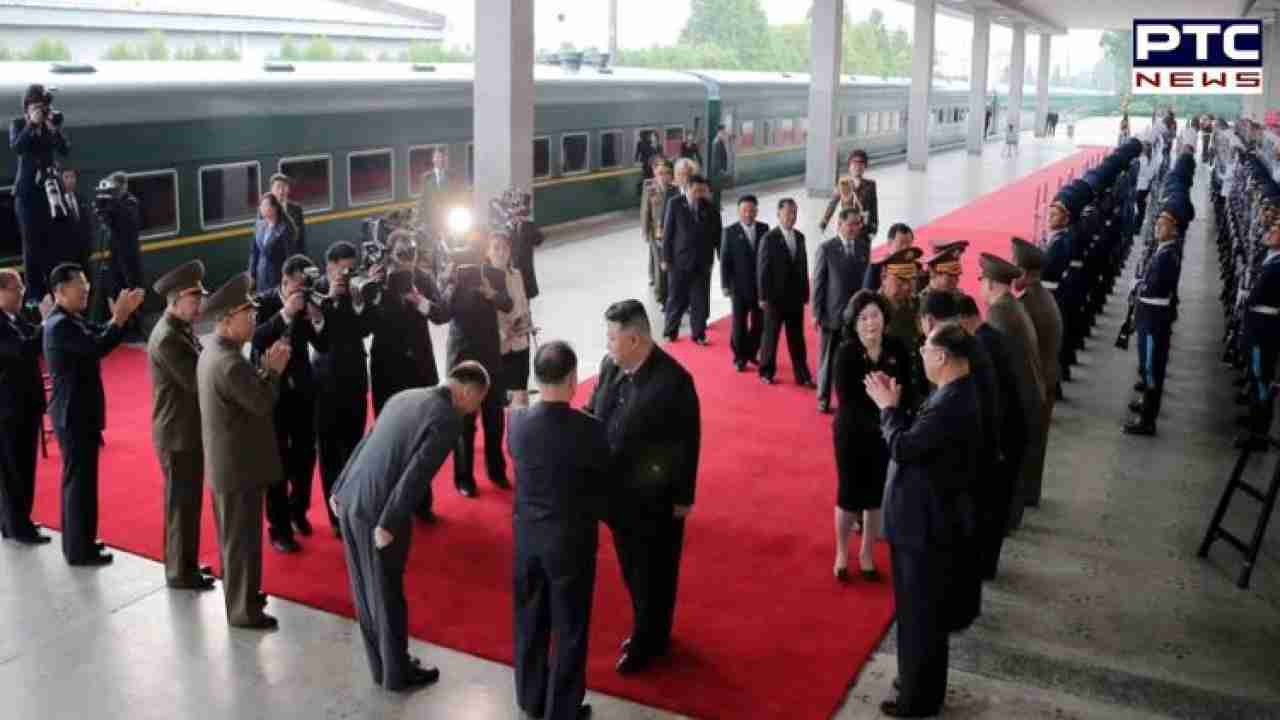 South Korea's Defense Ministry spokesperson, Jeon Ha Gyu, confirmed that Kim's train crossed into Russia early on Tuesday. However, details about how this information was obtained remain undisclosed. Photographs from North Korean state media showed Kim passing by honor guards and crowds of civilians waving the national flag and flowers. He also waved to onlookers from his green-and-yellow armored train before its departure.
Kim's delegation is likely to include his foreign minister, Choe Sun Hui, and top military officials, including Korean People's Army Marshals Ri Pyong Chol and Pak Jong Chon.
Reports from unidentified Russian regional officials indicated that Kim's train crossed the border and arrived in the border town of Khasan.
The Kremlin confirmed the visit, stating that it was at Putin's invitation and would take place "in the coming days." However, the exact timing and location of the meeting between the two leaders were not specified.
Kremlin spokesperson Dmitry Peskov mentioned that Putin and Kim would lead their respective delegations in talks and could also have a one-on-one meeting if necessary. He added that Putin would host an official dinner for Kim, and the discussions would primarily focus on bilateral relations.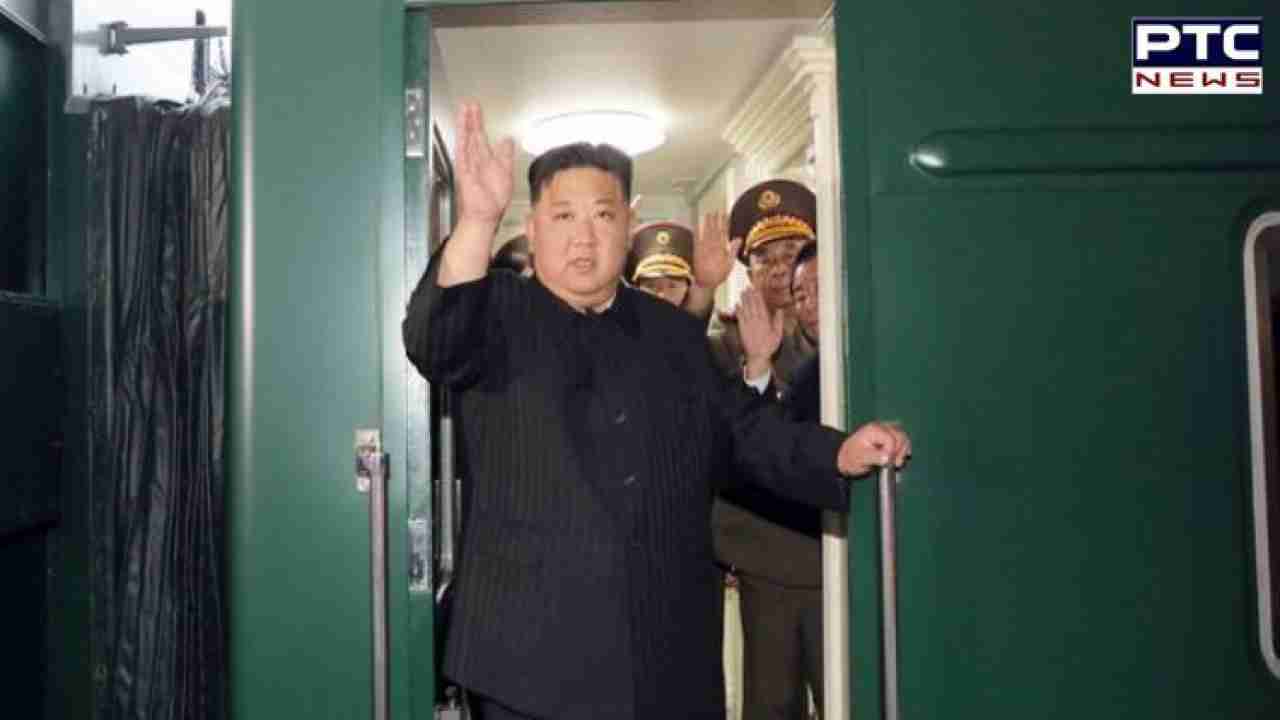 One possible venue for the meeting is Vladivostok, an eastern Russian city located approximately 425 miles north of Pyongyang. This city was also the site of the first meeting between Putin and Kim in 2019.
Kim's trip marks his first foreign visit since the COVID-19 pandemic, which led North Korea to enforce strict border controls for over three years to safeguard its healthcare system. Kim has previously used his personal train for meetings with Putin, Chinese President Xi Jinping, and former US President Donald Trump.
As Kim's train was seen near the North Korea-Russia border, speculations arose about a potential meeting between Kim and Putin, with some reports suggesting it could take place as early as Tuesday.
US officials have released intelligence indicating that North Korea and Russia are arranging a meeting between their leaders as they enhance their cooperation in the face of escalating tensions with the United States.
The meeting has raised concerns that Putin may seek additional supplies of North Korean artillery and other ammunition to replenish diminishing reserves as he aims to de-escalate a Ukrainian counteroffensive and demonstrate his capability for a prolonged war of attrition.
This could exert pressure on the US and its allies to engage in negotiations as concerns grow regarding a protracted conflict, despite their substantial deliveries of advanced weaponry to Ukraine over the past 17 months.
The White House National Security Council spokesperson, Adrienne Watson, stated, "Arms discussions between Russia and the DPRK are expected to continue during Kim Jong Un's trip to Russia." She urged North Korea to adhere to its public commitments not to provide or sell arms to Russia.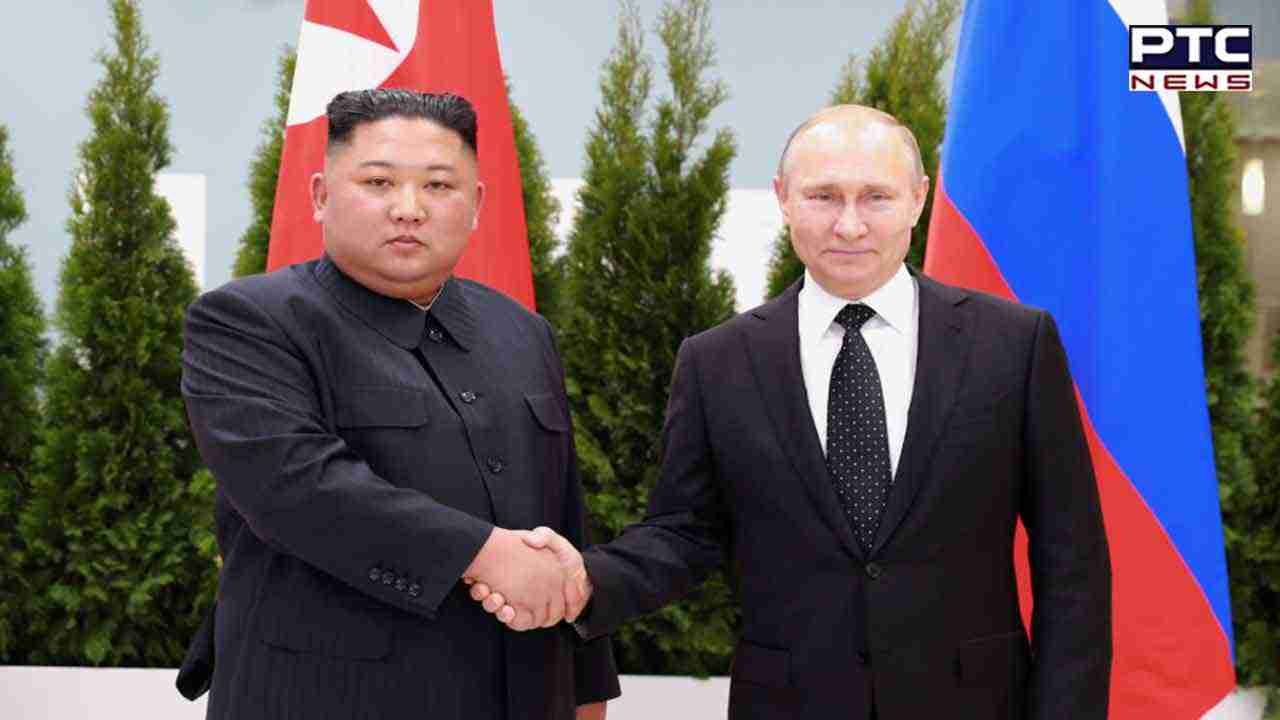 State Department spokesperson Matthew Miller emphasized that the US would closely monitor the meeting and reminded both countries that any transfer of arms from North Korea to Russia would violate multiple UN Security Council resolutions. He warned that the US "will not hesitate to impose new sanctions."
North Korea possesses potentially tens of millions of artillery shells and rockets based on Soviet designs, which could significantly bolster the Russian military.
In return, Kim might seek essential energy and food aid, as well as advanced weapons technologies, including those related to intercontinental ballistic missiles, nuclear-capable ballistic missile submarines, and military reconnaissance satellites.
There are concerns that potential technology transfers from Russia could amplify the threat posed by North Korea's expanding arsenal of nuclear weapons and missiles designed to target the US, South Korea, and Japan.
Based on North Korean state media photos, Kim's delegation may include Pak Thae Song, chairman of North Korea's space science and technology committee, and Navy Admiral Kim Myong Sik, both of whom are linked to North Korean efforts to acquire spy satellites and nuclear-capable submarines.
Kim Jong Un also appears to be accompanied by Jo Chun Ryong, a ruling party official responsible for munitions policies, who had previously joined the leader on tours of factories producing artillery and missiles.
After years of fluctuating relations, Russia and North Korea have been growing closer since Russia's invasion of Ukraine in 2022. This partnership has been driven by Putin's need for military assistance and Kim's desire to strengthen his ties with traditional allies Moscow and Beijing while trying to break out of diplomatic isolation and align North Korea with a united front against Washington.
Amid heightened weapons development activities, North Korea has repeatedly blamed the United States for the Ukraine crisis, asserting that the West's "hegemonic policy" justified Russia's offensive to protect itself.
North Korea is one of only three nations, along with Russia and Syria, to recognize the independence of two Russian-backed separatist regions in eastern Ukraine: Donetsk and Luhansk. Additionally, North Korea has hinted at sending construction workers to assist in reconstruction efforts in these areas.
Both Russia and China have blocked US-led efforts at the UN Security Council to impose stricter sanctions on North Korea due to its escalating missile tests. They have accused Washington of worsening tensions with Pyongyang by expanding military exercises with South Korea and Japan.
The United States has been alleging since last year that North Korea has supplied arms to Russia, including artillery shells sold to the Russian mercenary group Wagner. While both Russian and North Korean officials have denied these claims, speculation about military cooperation between the two nations has grown following Russian Defense Minister Sergei Shoigu's rare visit to North Korea in July. During the visit, Kim invited Shoigu to an arms exhibition and a massive military parade in the capital, where he showcased intercontinental ballistic missiles targeting the US mainland.
Following this visit, Kim toured North Korean weapons factories, including a facility producing artillery systems, where he urged workers to accelerate the development and large-scale production of new ammunition types. Experts believe that Kim's visits to these factories likely served a dual purpose: encouraging the modernization of North Korean weaponry and exploring artillery and other supplies that could potentially be exported to Russia.
Some analysts suggest that a potential meeting between Kim and Putin would yield more symbolic gains than substantial military cooperation. Russia, known for guarding its most critical weapons technologies closely, even from key allies like China, may be reluctant to transfer significant technology to North Korea for limited war supplies transported through a small rail link between the countries.
- With inputs from agencies