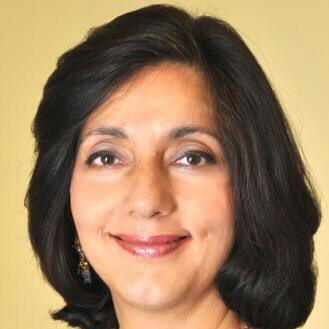 AAP leader Meera Sanyal passes away
Aam Aadmi Party (AAP) leader Meera Sanyal passed away on Friday at the age of 57 after a prolonged illness.
Meera Sanyal fought the Lok Sabha elections from South Mumbai in 2009 as an independent candidate. She also fought 2014 elections on the AAP ticket. She was a former chairperson of the Royal Bank of Scotland in India.  Many AAP leaders including Arvind Kejriwal, Manish Sisodia condoled the demise of Meera Sanyal.
Also Read: President's Rule To Be Imposed In J&K From Midnight Today
Arvind Kejriwal tweeted, "Extremely sad to hear this. No words to express…"
Extremely sad to hear this. No words to express… https://t.co/YslA8TddvU

— Arvind Kejriwal (@ArvindKejriwal) 11 January 2019
 Also Read: American film based on Canadian Sikh boxer's life to release in US and Canada
Manish Sisodia tweeted, "I am deeply saddened to hear about the passing away of Meera Sanyal. The country has lost a sharp economic brain and a gentle soul. May she rest in peace! You will forever remain in our hearts."
I am deeply saddened to hear about
the passing away of Meera Sanyal.
The country has lost a sharp economic brain and a gentle soul. May she rest in peace!

You will forever remain in our hearts.

— Manish Sisodia (@msisodia) 11 January 2019
Also Read: Watch:Manali,Kufri gets season first Snowfall
Gulpanag, an actor and AAP worker wrote on Twitter, "Shattered to hear about meerasanyal's demise. A woman who personified grace, carried her success lightly and always had a patient ear for anyone who reached out to her. An exemplary leader who inspired all who came across her. May God give her family strength to bear this."
Shattered to hear about @meerasanyal's demise. A woman who personified grace, carried her success lightly and always had a patient ear for anyone who reached out to her. An exemplary leader who inspired all who came across her. May God give her family strength to bear this.

— Gul Panag (@GulPanag) 11 January 2019
Another AAP worker, Atishi wrote on Twitter, "Meera was one of the bravest and sharpest women I have known. Her story is an inspiration for all of us who are trying to make change happen through politics. Will miss her deeply."
Meera was one of the bravest and sharpest women I have known. Her story is an inspiration for all of us who are trying to make change happen through politics. Will miss her deeply. pic.twitter.com/IWNrXOTqRP

— Atishi (@AtishiAAP) 11 January 2019
-PTC NEWS