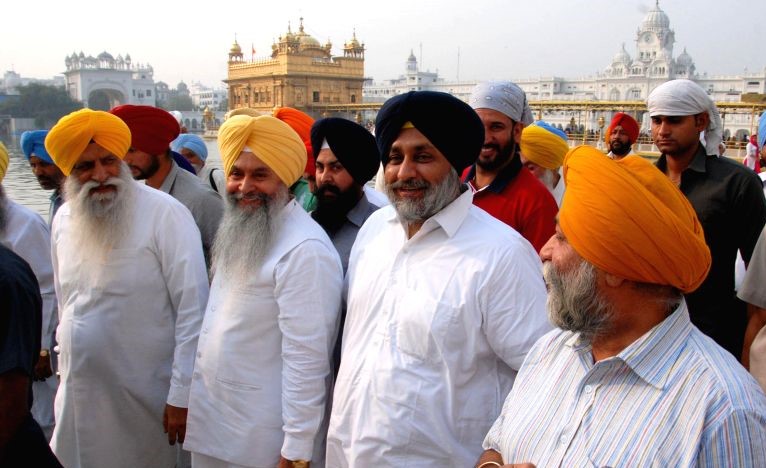 Amritsar: The Punjab Deputy Chief Minister, S. Sukhbir Singh Badal today took stock of the preparations regarding the 'Heart of Asia' conference to be held at Amritsar from 2 and 3 December. In a meeting with the senior officers of the state as well as the ministry of External Affairs in the presence of Union Minister for Food Processing Industries Mrs. Harsimrat Kaur Badal, the Deputy Chief Minister said that it is a matter of great pride that the Union Government has selected Amritsar as the venue of the conference.
Giving instructions, he said that there should be left no stone unturned to accord due hospitality to the visiting foreign dignitaries and the city should be perfectly decked up as befitting a host. The Deputy Chief Minister also divulged that while on one hand the Foreign Ministers from 14 countries are coming to participate in the conference, on the other Prime Minister Narendra Modi and President of Afghanistan are also coming to grace the occasion.
S. Badal took feedback from the officials regarding the adequate preparations, sanitation arrangements besides the steps being promulgated to ensure the visit by guests to Sri Darbar Sahib, Jallianwala Bagh and other historical places in the city.
It is worth mentioning here that this is the first time India has got the chance to host the conference during the course of which various events would be held concentrating on the challenge of terrorism in the heart of Asia region especially Afghanistan, countering extremism, exploring cultural and civilizational similarities, and Co-operation in educational sector.
On the occasion, Special Principal Secretary to the Deputy Chief Minister-Rahul Tewari, Additional Chief Secretary (Home) Jagpal Singh Sandhu, Secretary Health and Family Welfare Department Hussan Lal, Satish Chandra, State Transport Commissioner Ashwani Sharma, DGP Suresh Arora, DGP Hardeep Singh Dhillon, ADGP Dinkar Gupta, DIG Arun Kumar Mittal, Deputy Commissioner Dr. Basant Garg, Commissioner Municipal Corporation Sonali Giri, Sandeep Rishi, Additional Deputy Commissioner Tajinderpal Singh and other officers were also present.