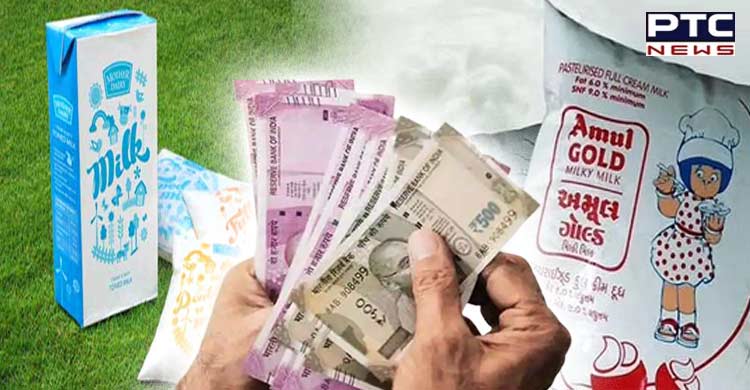 Milk price hike: Amul and Mother Dairy have decided to raise milk prices in the Delhi-NCR by Rs 2 per litre beginning Wednesday due to increases in procurement and other input costs.

Mother Dairy is a leading milk supplier in the Delhi-NCR market, selling over 30 lakh litres of milk per day in poly packs and through vending machines.
According to a company official, the company is "compelled" to raise its liquid milk prices by Rs 2 per litre beginning August 17, 2022. The new prices will apply to all milk variants.
Mother Dairy rates
From Wednesday, full cream milk will cost Rs 61 per litre, up from Rs 59 per litre.
Toned milk prices will rise to Rs 51 per litre, while double toned milk prices will rise to Rs 45 per litre. The price of cow milk has been raised to Rs 53 per litre.
The price of bulk vended milk (token milk) has been raised to Rs 48 per litre from Rs 46.
According to the official, the company's input costs have risen in the last five months.
Also Read | Kejriwal urges Centre to not term free education, healthcare as 'freebies'
Amul rates
According to Gujarat Cooperative Milk Marketing Federation, the parent company of the Amul dairy brand, Amul Gold will now cost 31, Amul Taaza 25, and Amul Shakti 28 for 500 ml in Ahmedabad and Saurashtra markets.
"This price hike is being done due to an increase in an overall cost of operation and production of milk. The cattle feeding cost alone has increased to approximately 20 per cent compared to last year. Considering the rise in input costs, our member unions have also increased farmers' prices in the range of 8-9 per cent over the previous year," Amul said.
Also Read | Lumpy Skin Disease: Harsimrat Badal slams Punjab govt, demands Rs 50k compensation
-PTC News