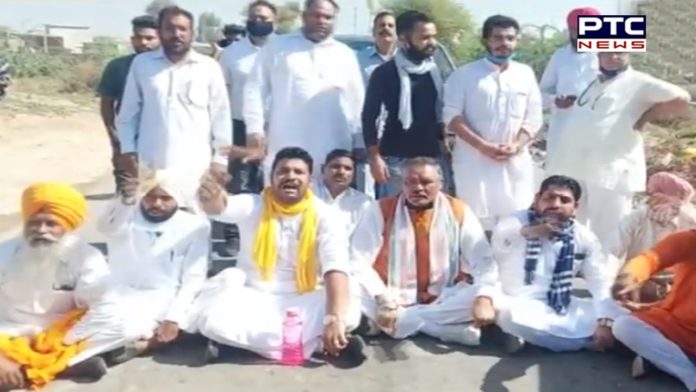 Former Union Minister-cum-senior BJP leader Vijay Sampla was gheraoed by farmers protesting against the farm laws at Maha Badhar village here.

Also Read | Cinema Halls to remain CLOSED in Punjab, Ramlilas allowed
He was on his way to visit a Dalit youth's house at Chak Janisar village in Jalalabad sub-division in Fazilka district, who was allegedly forced to drink urine.
"Vijay Sampla, some of us are being arrested and taken away. The farmers were adamant that they won't give us a way to go ahead. We requested them to let us go ahead and visit Dalit youth's family at Jalalabad. However, now police are arresting us. We are nearly 15 people.", said Rajesh Pathela, district president, BJP
Sampla, along with others, sat on a dharna terming the agitating farmers Anti-Dalit. Later, the police took them into custody.
Sampla said, "The protest was led by a youth Congress leader. He, along with others, blocked our way. When we objected and started a parallel protest on the road, seeking a way to go ahead to meet a Dalit youth's family, a police party arrived and took us into custody. We are now being taken to some undisclosed place on a police bus."
Faridkot police took Sampla into custody near Khara village in on the border of Muktsar and Faridkot districts. Other BJP leaders of Muktsar district were released there.
"We have been released by Muktsar police on the boundary of Faridkot district. Now, a DSP of Faridkot district police is taking Samplaji in his official vehicle ahead towards Kotkapura. Samplaji's personal vehicle is also moving along," said Sandeep Girdhar, vice-president, Muktsar district, BJP.
Also Read | Former Punjabi University VC Joginder Singh Puar passes away at 87
"However, despite all this, we will come again in two-three days to visit the Dalit youth's family. I have informed our state president about today's incident."
-PTC News