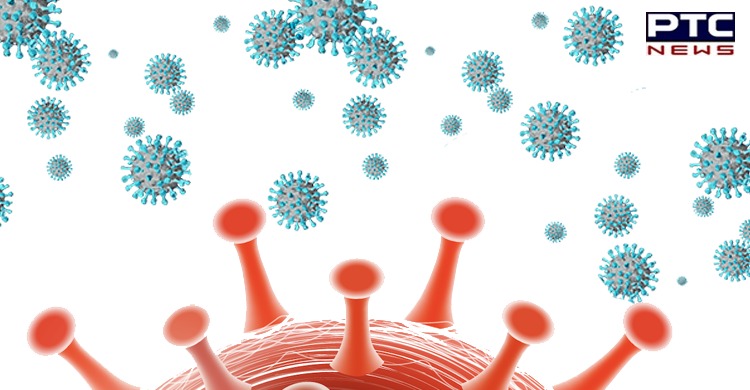 Coronavirus Omicron Highlights: India on Thursday reported 13,154 new cases of Covid-19 in the last 24 hours while the Omicron case tally has increased to 961 with 263 cases in Delhi and 252 in Maharashtra.

India has been witnessing a rise in Covid-19 cases ever since the Omicron variant of coronavirus emerged. Reportedly, Omicron is said to be more infectious than the other variants of Covid-19.
Also Read | Don't panic, but be vigilant: AIIMS Director amid Omicron scare
However, experts across the world are asking people not to panic and to be vigilant. With rising cases of coronavirus in India, the third wave of Covid-19 looms large on the country as the nation has witnessed a major spike in Covid-19 cases.
Also Read | Good news! Antibodies to block Omicron 'identified'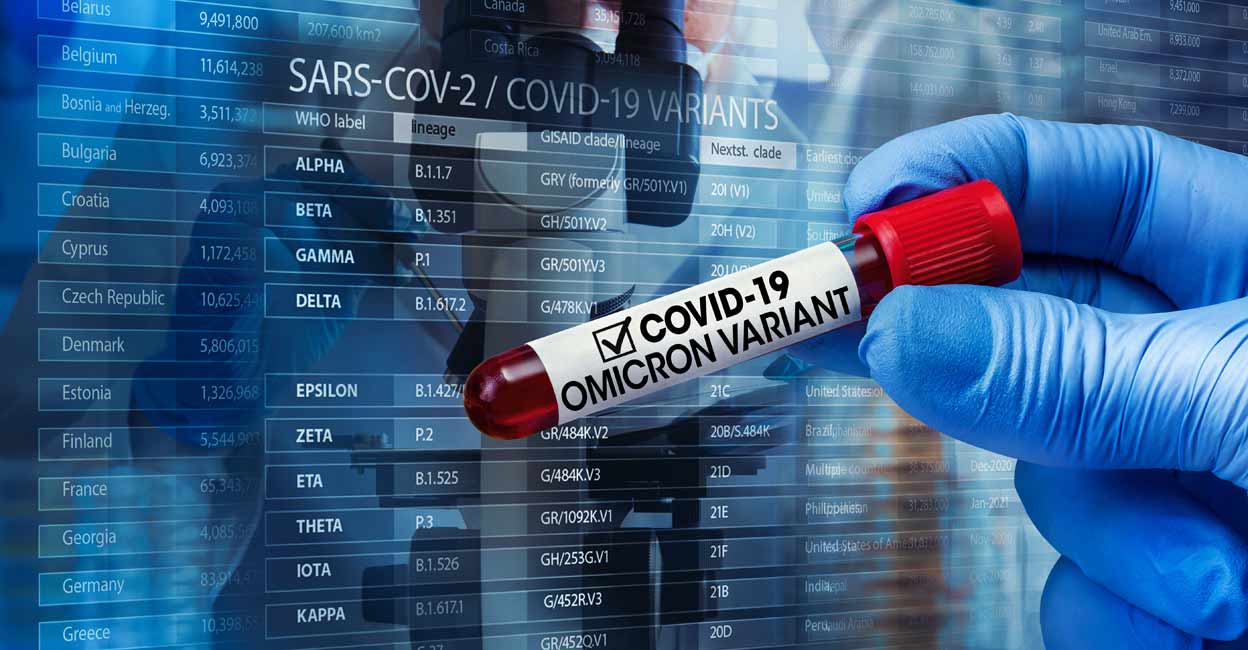 Coronavirus Omicron Highlights:
03:00 pm | Chandigarh Administration said that asymptomatic Covid-19 positive patients should be admitted to 'Mini COVID Care Centre' if there is no isolation facility (separate room with washroom) available at their home."
02:06 pm | Bollywood actress 'Nora Fateh' tests positive for Covid-19.
01:54 pm | Union Health Secretary Rajesh Bhushan writes to Delhi, Haryana, Tamil Nadu, West Bengal, Maharashtra, Gujarat, Karnataka & Jharkhand, advises the States to enhance Covid-19 testing, strengthen hospital-level preparedness, increase pace and coverage of vaccination.
01:44 pm |"Over Rs 89 lakhs collected in fines and 67 FIRs registered from Dec 29, 2021 till now, for violation of Covid-19 protocols, following the enforcement of 'Yellow alert' restrictions in Delhi," said Delhi govt.
01:15 pm | "Mini Covid Care Centre' established at Indira Holiday Home, Sector 24B, Chandigarh, due to the rising number of cases. Covid patients will be sent to this center from 3rd January 2022", said UT Administration.
12:25 pm | Mumbai's 'Bandra Reclamation- Bandra Wonderland' closed for visitors from today till January 2, due to rising Covid-19 cases in the city.
12:13 pm | "Representatives of all political parties met us and told us that elections should be conducted on time following all Covid-19 protocols", said Chief Election Commissioner Sushil Chandra on 2022 UP Assembly elections.
12:03 pm | Maharashtra CM Uddhav Thackeray to chair a meeting of the Covid-19 Task Force on 30 December. The meeting will be held in virtual format.
12:01 pm | Delhi Health Minister, Satyendar Jain said the Omicron variant is being found in people with no travel history, adding that it is gradually spreading in the community.
11:33 am | "A total of 70 Omicron patients have been admitted to LNJP till Dec 30, out of which 50 patients have been discharged. Most of the patients are asymptomatic; only 4 out of the 70 patients had a mild fever, throat infection, weakness, loose motion," said Dr Suresh Kumar, LNJP-MD, Delhi.
10:59 am | "46 percent of total Covid-19 cases are of Omicron variant as per the latest genome sequencing report", said Delhi Health Minister Satyendar Jain.
10:29 am | Delhi temples closed for devotees as 'Yellow' alert sounded in the national capital due to rising Covid-19 cases, 923 new cases were reported in the city on wednesday.
10:19 am | "UP has 3 Omicron patients till now, 2 in Ghaziabad, 1 in Rae Bareli. Out of 115 genome sequencing samples, 112 were of Delta variant. But, we need to be careful and alert. Delhi NCR areas have already started witnessing an increase in Covid-19 cases," said UP ACS Health Amit Mohan Prasad.
10:14 am | "Epidemic Diseases Act, 1897, has been underway in UP since the beginning of the pandemic, we keep extending it for a 3 months duration. With the surge in Covid-19 cases, the Epidemic Diseases Act, 1897, will now be implemented till March 31, 2022," said UP ACS Health Amit Mohan Prasad.
09:59 am | "A woman from Madhya Pradesh aged around 30 years , who had already been vaccinated 4 times in different countries, tested Covid-19 positive at the airport and was admitted to a hospital. She was asymptomatic and tested negative a day before," said Indore CMHO Dr Bhure Singh Setia.
09:38 am | India reports 13,154 new Covid-19 cases in the last 24 hours; Omicron case tally rises to 961 with 263 cases in Delhi and 252 in Maharashtra.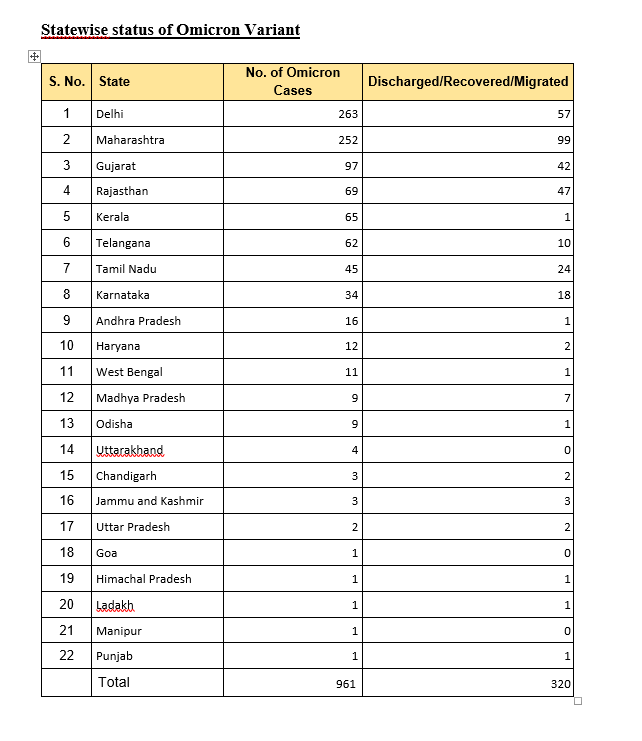 09:30 am | Punjab on Wednesday reported its first case of Omicron variant. Read details here.
09:25 am | WHO chief Dr Tedros Adhanom Ghebreyesus said that the Omicron variant is very transmissible and is leading to a tsunami of Covid-19 cases. Read more. 
09:15 am |
WHO Chief Scientist said that vaccines are still effective against Omicron variant. Read more. 
09:10 am | Amid rising cases of Omicron cases in India, AIIMS Director asked people to "not panic, but be vigilant". Read more 
09:00 am | Antibodies to block Omicron have been identified, a study said, adding that the third dose is really useful. Read more.  
-PTC News