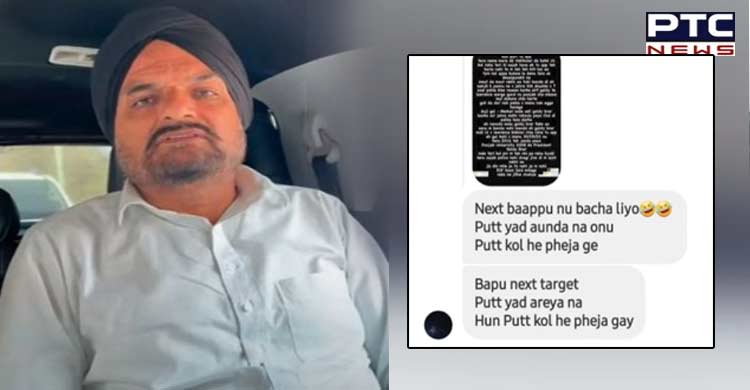 Bathinda: Punjab Police has registered an FIR against unknown person in the regard  of a threatening email to Sidhu Moosewala's father Balkaur Singh. This case was registered under section 384 and 506 IPC in Mansa Sadar police station on the complaint of Moosewala's father Balkaur Singh.

Also Read: MeitY takes note of Arshdeep Singh's wiki page, may take action on Wikipedia: Sources 
According to the sources, the Mansa police have traced the person who threatened singer's father from Rajasthan. Mansa police team has left for Rajasthan to catch hold of the accused. It is to be mentioned that fews days ago Balkaur Singh, father of Punjabi singer Sidhu Moosewala, also received death threats from Pakistan on social media.
This matter was brought to the notice of the Punjab Police. After the singer's murder, the security of Moosewala's father was also tightened. The Punjab Police has started an investigation but no official statement has been issued by the authorities yet.
This time the gangsters have not threatened Balkaur Singh through a Facebook post, but through an email. This email was sent to the official mail id of Sidhu Moosewala. A gangster named AJ Bishnoi has sent a mail on behalf of Sopu Group threatening him to remain silent. It has been said in the threat, 'If you do not remain silent, you will also be sent to your son (killed).'
Sidhu Moosewala's father has raised the issue of gangster Lawrence and Jaggu Bhagwanpuria's security several times. Balkaur Singh said that the gangsters are taking advantage of the law made for the common man. There are so many cases against on Lawrence and Jaggu, yet they are being given protection. Why don't they go to court like a common man? questioned Balkaur Singh.
Also Read| 'Bhagwant Mann claiming undue attention, toll plaza contract is ending anyway' alleges opposition
-PTC News