The Congress has appointed Harish Chaudhary as Punjab and Chandigarh in-charge with immediate effect. The All-India Congress Committee has relieved Harish Rawat from his current responsibility.

Also read | Gauri Lankesh murder: SC sets aside HC order quashing charge sheet against accused for KCOCA offences
Harish Chaudhary was appointed as an observer by the Congress high command during the recent leadership change in Punjab, which saw Captain Amarinder Singh's resignation and the elevation of Charanjit Channi as the Chief Minister.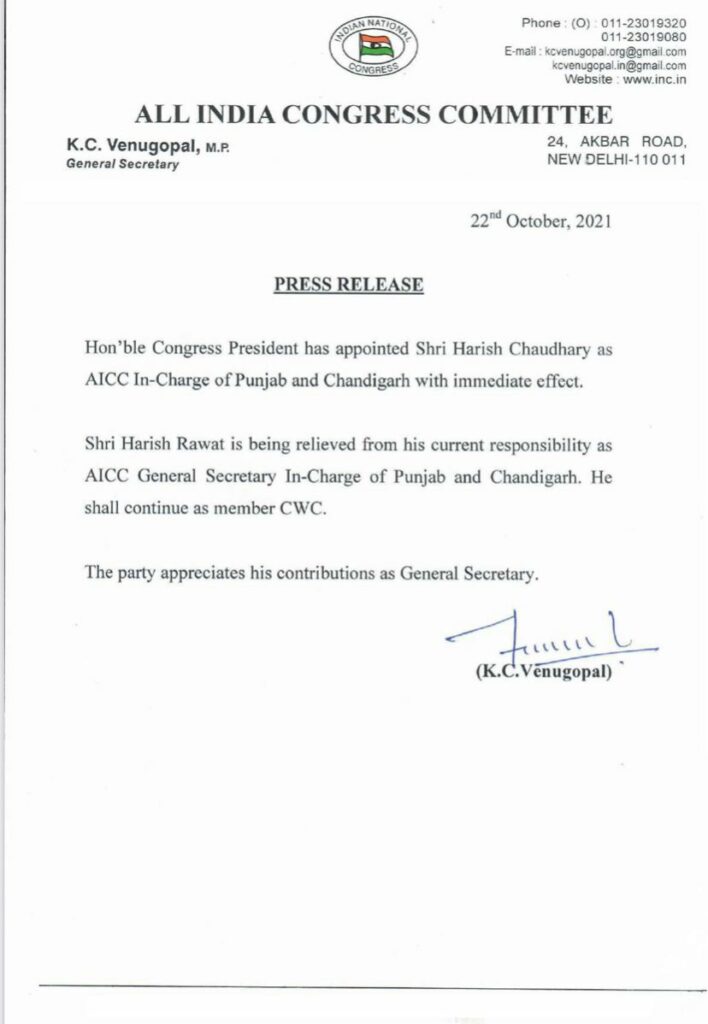 "I am ready to take whatever responsibility the party gives me," said Harish Chaudhary when asked about his possible new role.

Also read | Covid-19: PM Modi congratulates India on #VaccineCentury
Earlier, Harish Rawat had written to the Congress high command requesting that he be relieved of the responsibility of party affairs in Punjab, citing that elections in Uttarakhand are round the corner and he needed to concentrate on the same.
"The Congress president has appointed Harish Chaudhary as AICC in-charge of Punjab and Chandigarh with immediate effect. Harish Rawat is being relieved from his current responsibility as AICC general secretary in-charge of Punjab and Chandigarh. He shall continue as a member of the CWC. The party appreciates his contributions as general secretary," said AICC general secretary KC Venugopal in a statement.
Notably, the Assembly elections in Punjab are scheduled to be held early next year.
-PTC News