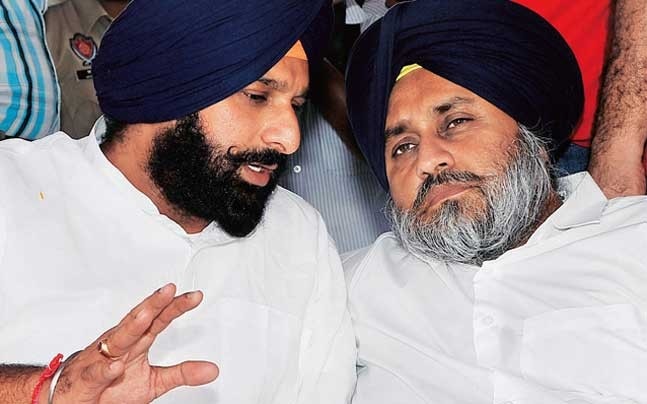 Jakhar to test his popularity by contesting poll from Ferozepur
Muktsar, March 6 – Former minister and Shiromani Akali Dal (SAD) leader Bikram Singh Majithia today challenged Punjab Pradesh Congress president Sunil Jakhar to test his popularity by contesting the parliamentary poll from Ferozepur constituency instead of trying to run away to Gurdaspur.
Addressing a huge gathering of youth in Malout after leading few thousand motor cycles and cars in a road show from Muktsar, the SAD General Secretary (Incharge, Youth) asked Jakhar to tell Punjabis why he was trying to leave his home constituency. "This is a golden opportunity for you to contest from Ferozepur if the Congress party has done good work for the people as per your claim. You should not be running away from a contest".
Also Read: Watch: 27-year-old youth dies of drug overdose in Amritsar
Mr Majithia said Jakhar's true popularity had been tested once. "The people of Abohar rejected him despite the fact that a Congress wave was sweeping the State in 2017. It seems this is why he wants to run away to Majha". He said despite running away from Abohar Jakhar was venting his frustration at the people by registering false cases against his political opponents. "The people will teach the Jakhar family a befitting lesson in the Lok Sabha elections", he added.
Urging the youth to fan out in the field and visit each and every farmer whose loan had not been waived and youth who were still awaiting jobs, the Akali leader said never before had each and every section of society been backstabbed in such a manner in the history of the State. He said even the face of the farm loan waiver scheme – Budh Singh had not been given justice by the Congress government. He said against a promised Rs 90,000 crore loan waiver, the government was trying to implement a crop loan waiver which had in fact increased the suicide toll to more than 900 farmers in two years. Mr Majithia said similarly youth had been promised 60 lakh jobs which came to one lakh jobs per month besides unemployment allowance of Rs 2,000 per month. He said while youth had been duped in the name of ghar ghar naukari the government was giving unemployment allowance of Rs 150 per month to 150 youth in the State. "This is  a cruel joke on the youth which they will avenge in the forthcoming elections", he added.
Mr Majithia also castigated finance minister Manpreet Badal for lying in the Vidhan Sabha that no taxes were being enforced in the State. He said the truth was that the common man had witnessed a 30 per cent increase in power tariff in two years from Rs five per unit to Rs eight per unit. He said even the industrial sector was being provided power at Rs seven per unit against a promise of Rs five per unit. He said similarly scheduled caste and backward class power consumers were feeling cheated as the partial 200 units per month free power facility had been effectively withdrawn. "The facility is being given with a rider that anyone consuming more than 3,000 units per year will have to pay the full bill", he added.
Also ReaD: Amend conditions to broad base pension scheme for journalists - Sukhbir Badal
Others present on the occasion included Muktsar legislator Kanwarjit Singh Barkandi, former legislator Harpreet Singh and YAD State coordinator Parambans Singh Romana. EOM
- PTC NEWS