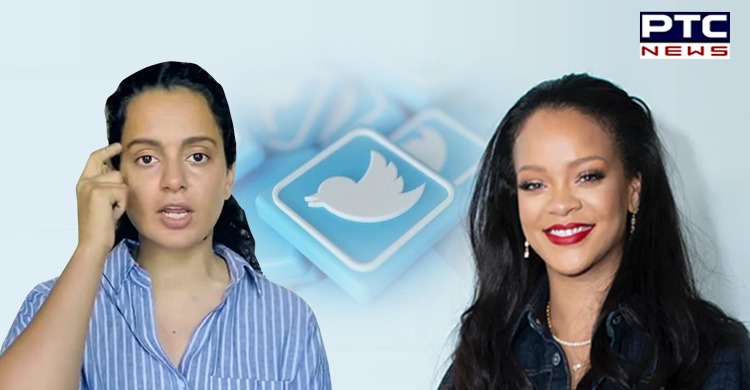 Kangana Ranaut attacks Rihanna: The farmers' agitation for repeal of three agriculture laws has entered its 71st day today. Amidst the cold and dense fog, farmers are stranded on all the borders of Delhi. Many farmers have lost their lives so far due to farmers agitation.
Also Read | Rihanna, Amanda Cerny bring global Twitter attention to farm protests

Now, International celebrities like Rihanna, Amanda Cerny, Greta Thunberg have come out in support of farmers.
After Rihanna's tweet, Actor Kangana Ranaut created another controversy for herself. She took a dig at international pop star Rihanna for coming out in support of the farmers protesting on the outskirts of Delhi since November against the 3 agricultural laws.
https://twitter.com/KanganaTeam/status/1356640083546406913?s=20
Kangana Ranaut called the demonstrators "terrorists", Ms Ranaut, who has 3 million Twitter followers versus Rihanna's over 100 million, said they were trying to divide India and called the singer a "fool".
The actor also called at a Twitter user who pulled out an old tweet of hers, seemingly expressing her appreciation for a song by Rihanna.
Kangana Ranaut has been opposing the farmers movement since the day it started and has indulged herself in a lot of controversies.
In December, she had days long fight over the farmers' protest, triggered by the new laws that they say will leave them at the mercy of large corporations and override safeguards against being cheated.

Ms. Ranaut has faced widespread criticism for all her statements and recently to misidentify a demonstrator at the farmers' protest as Bilkis Bano, famously known as one of the "Shaheen Bagh dadis" and alleged that she had joined the protest for ₹ 100.
Also Read | Delhi Police announces cash prize on info of Deep Sidhu and 8 others
Rihanna, who also tweeted about the coup in Myanmar on Tuesday, condemning the internet shutdown aimed at crippling the farmers' movement.
Internet services in the Delhi border areas of Singhu, Ghazipur and Tikri were suspended on Saturday and the shutdown has been extended twice to be in force till at least 5 pm Wednesday.
-PTC News