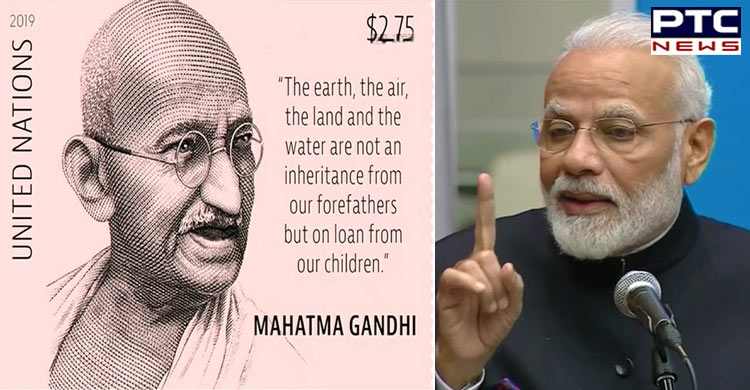 World leaders, including Prime Minister Narendra Modi, Bangladesh PM Sheikh Hasina and President of South Korea Moon-Jae-in, on Tuesday, inaugurated the Gandhi Solar Park at UN headquarters in New York. They also launched a United Nations (UN) postage stamp of Mahatma Gandhi at the programme, "Relevance of Mahatma Gandhi in the Contemporary World" at UN Headquarters.
https://twitter.com/ANI/status/1176630559881093120
Addressing the programme, the Prime Minister said, "I'm extremely grateful to the United Nations (UN) for organizing this programme and issuing a special commemorative stamp to mark the 150th birth anniversary of Mahatma Gandhi." The Prime Minister described Gandhi as a source of inspiration for millions around the world. "Gandhi ji inspired those who never ever met him. Ideologies of Martin Luther King Junior and Nelson Mandela were based on Mahatma Gandhi's vision."
Also Read: 'Statue of Unity' in Gujarat finds its spot in Time's 100 greatest places in the world
"We are living in the era of how to impress, but Gandhi Ji's vision was how to inspire," he said. Bangladesh PM Sheikh Hasina said, "Gandhi ji was a true patriot, statesman and saint. He dedicated his life to humanity and was a beacon of hope in the darkness. Gandhi ji's love for common people and ideals of non-violence contributed to shaping Bangabandhu Sheikh Mujib's vision of struggle, non-cooperation and peaceful movement against oppression and tyranny by then Pakistani rulers against the peace-loving Bengalis."
-PTC News