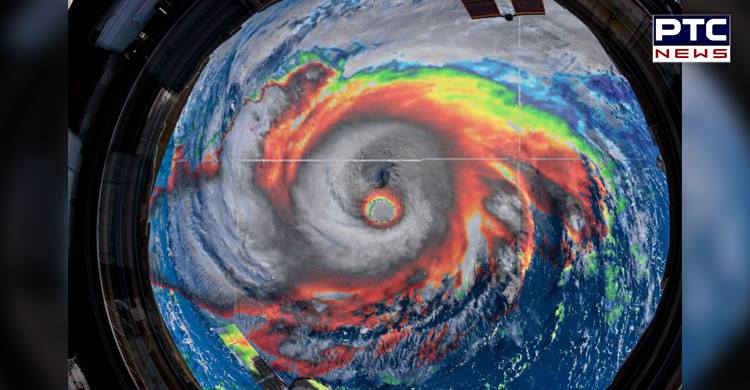 Major Weather Alert! A disaster is coming to destroy all Mankind
A German astronaut, Alexander Gerst is orbiting Earth from 250 miles up, has a MAJOR warning for all the humans on the planet below him.
Watch out world! "This is a no-kidding nightmare coming for you," he said.
Whole of west and east is under the cloud of danger called as Hurricane in WEST and Typhoon is the EAST.
The NASA astronaut Ricky Arnold has also been following the giant storm. He said that the ISS's crew "is thinking of those who will be affected." The crew of the International Space Station took pictures of Hurricane Florence.
IN THE WEST: More than 1.5 million people living on the US East Coast have been ordered to leave their homes as Hurricane Florence heads towards them.
IN THE EAST: Thousands of people will be evacuated as the most powerful typhoon so far this year roars towards the northern Philippines.
In the WEST: The category four hurricane is set to bring with it heavy rains and winds of up to 225 kilometres per hour. The storm, which is building up over the Atlantic, is due to make landfall in either North or South Carolina within the next few days, and is expected to be the worst storm to hit the area in 30 years.
Also Read: Indonesia raises Bali volcano alert to highest level, airport shut, people evacuate homes
In the EAST: Typhoon Mangkhut was carrying maximum sustained winds of 205km/h and gusts of up to 255km/h. Mangkhut, also referred to in the Philippines as Ompong, was estimated to be 1,145km east of the northern province of Catanduanes and an emergency alert had already been raised.
Also Read: Typhoon Jebi Approaches, Over 600 Flights Cancelled In Japan
With the predicted path of the typhoon, it could also hit Taiwan and Hong Kong next.
-PTC NEWS