New Delhi, September 07: During the ongoing excavations at Delhi's historic Purana Qila, archaeologists have unearthed remarkable artifacts dating back 2,000 years. Among the discoveries are a beautifully decorated "gold foil" embedded in wood and an intricately engraved "lotus" symbol on a piece of red sandstone, both originating from the Kushan period.
Experts believe that these findings suggest the presence of an "elite" class of residents at Purana Qila during that era. Additionally, excavations have revealed evidence of a substantial kiln and a massive brick platform, indicating significant activities took place at the site.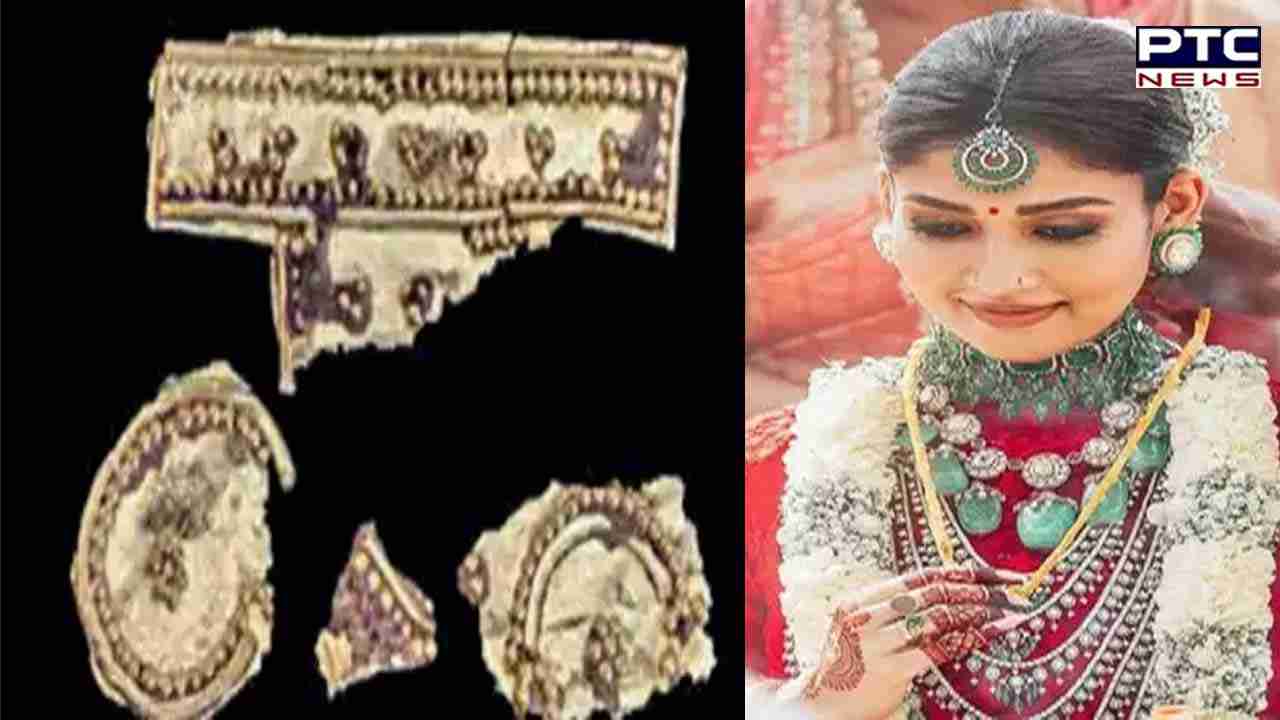 The recent excavations have unveiled several notable structures from the Kushan period, including a brick platform, a potter's kiln with half-made and fully formed pottery, a stone wall, mud-brick walls, numerous post holes, and a rammed brick floor. Notably, a brick jelly floor, a typical feature of the Gupta period dating back 1,500 years, was also discovered.
Vasant K Swarnkar, the project director of the Purana Qila excavations and director of archaeology at the Archaeological Survey of India (ASI), provided details about the latest findings. The artifacts include a tortoise-shaped amulet, ivory amulet, terracotta female figurine, animal figurines, a ram with stamped designs, seals, microbeads, jade beads, shell objects, copper chisel, part of a votive tank, bone needle, anthropomorphic pot, coin mold, and elements of temple structures and copper coins.
Additionally, arrowheads and spearheads from the Kushan period were found during the excavation. Swarnkar noted that these recent discoveries were located at the center of Purana Qila, in contrast to previous findings that were closer to the fort's boundary.
TJ Alone, an ASI spokesperson, highlighted other significant findings, including seals, coins, terracotta animal figurines, beautifully adorned human figurines, various types of beads made from coral, crystal, agate, and carnelian, as well as dices, iron and copper implements, arrowheads, and copper and terracotta wheels dating to the Gupta period (5th and 6th century).
Past excavations at Purana Qila had revealed other remarkable artifacts, such as a sculpted image of Vaikuntha Vishnu from the Rajput period, a finely carved terracotta plaque of Gaja-Lakshmi from the Gupta period, a small soapstone image of Lord Ganesha from the Mughal period, and a Mauryan period ring-well.
Purana Qila, also known as Pandavon ka Qila, stands on a mound of approximately 710 meters in length north-west and 350 meters east-west, with a periphery of about 2 kilometers, which is believed to mark the site of the ancient town of Indraprastha, mentioned in the Mahabharata. Inscriptions, rock edicts, and literary references have contributed to the historical understanding of the ancient city. These excavations further illuminate Delhi's continuous history spanning nearly 3,000 years, as researchers work to uncover the site's complete chronology and significance.
Also Read: India's Aditya-L1 Mission captures Earth-Moon selfies during sun-bound voyage
- With inputs from agencies