Udham Singh Nagar, August 23: Heavy rainfall wreaked havoc in Uttarakhand's Udham Singh Nagar, leading to waterlogging and the stranding of around 60 people in their homes, as confirmed by officials on Wednesday.
The State Disaster Response Force (SDRF) was informed late Tuesday night by Tehsildar of Kashipur that residents in Kashipur, a locality of Udham Singh Nagar, were trapped due to extensive waterlogging caused by the heavy downpour.
Promptly responding, the SDRF team rushed to the scene equipped with rafts and rescue gear to execute relief and rescue operations in Kashipur. Operating in challenging conditions amid the darkness of night, the SDRF managed to rescue approximately 60 individuals trapped in submerged houses and safely transported them to higher ground using rafts.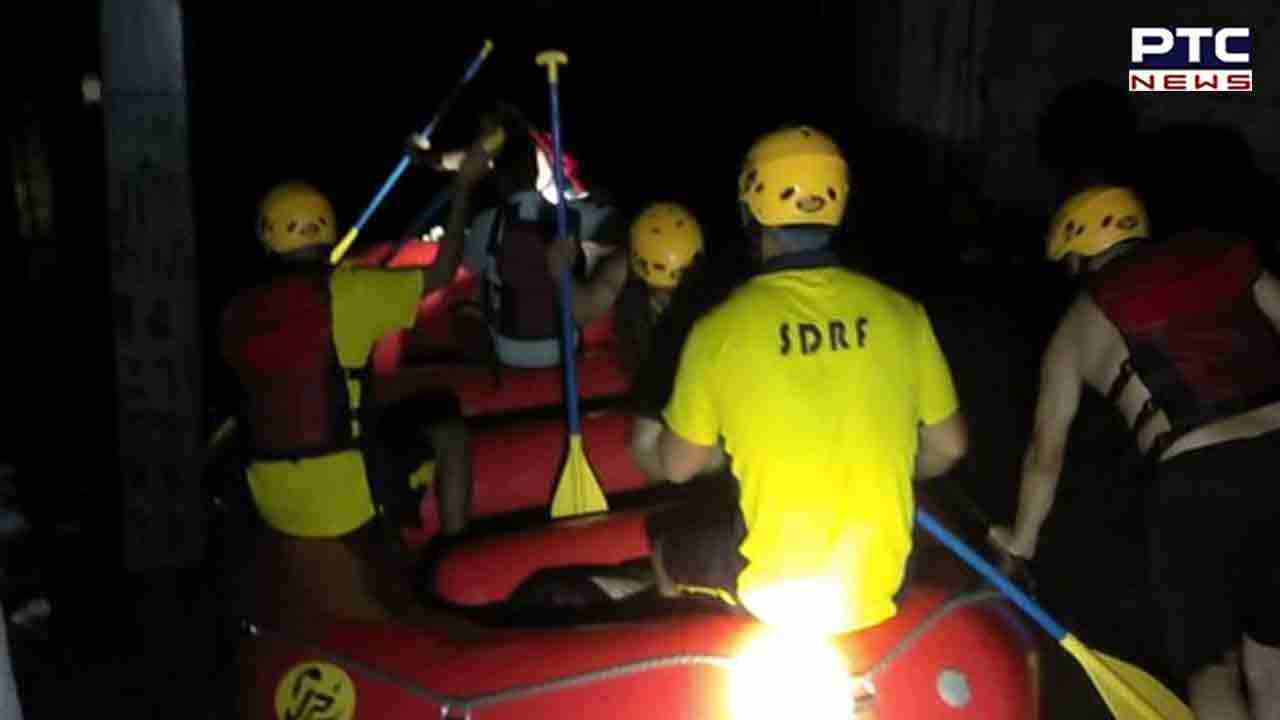 Officials noted that those affected by the waterlogging were provided temporary accommodations at a nearby local primary school.
Also Read: Zimbabwean cricket icon Heath Streak passes away at 49
With a red alert issued for heavy rainfall in Uttarakhand, district magistrates have been advised to implement precautionary measures in their respective regions. Rivers are overflowing in numerous districts due to continuous heavy rains since Monday night. The Senior Superintendent of Police in Pauri, Shweta Choubey, emphasized the importance of staying informed about weather conditions and road safety while traveling.
The impact of heavy rainfall was evident in various incidents, including a car being swept away by the strong river current in Kotdwar of Pauri district. Although there were no casualties, the incident highlighted the perilous conditions.
Uttarakhand State Emergency Operation Centre has alerted all district magistrates to remain vigilant due to the potential for heavy to very heavy rainfall in Dehradun, Tehri, Pauri, Bageshwar, Champawat, Nainital, and Udham Singh Nagar.
The India Meteorological Department (IMD) had previously predicted heavy rains in multiple Uttarakhand districts, including Dehradun. The region witnessed landslides and flash floods in several locations.
IMD Director Bikram Singh issued a two-day red alert for Uttarakhand on August 22, anticipating very heavy to extremely heavy rainfall in the upcoming days. Orange alerts were issued for Dehradun, Pauri, Nainital, Champawat, and Bageshwar districts, while a yellow alert was issued for Haridwar, Tehri, Chamoli, Udham Singh Nagar, and Pithoragarh districts.
Earlier estimates reported 52 deaths due to rain-related incidents in the state, with 37 individuals sustaining injuries.
Also Read: Himachal rain fury: Traffic halted at Chakki Mor on Chandigarh-Shimla highway amid downpour
- ANI