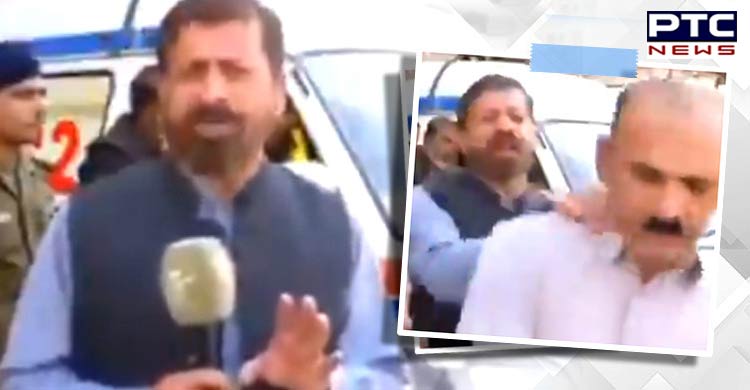 Pakistani media has always been producing gems for the Internet's troll army. Be it their news bulletins or speeches by activists and politicians, netizens have always got a good laugh through such viral video. Some of these include Pakistan Railways Minister Sheikh Rashid Ahmad getting an electric jolt through a microphone, while speaking about India and Prime Minister Narendra Modi in a bad manner.
Meanwhile, a video has surfaced on social media where a Pakistani reporter, gets highly irritated, when a passerby appeared between him and the camera during a live report. As the man stepped into the frame, the reporter reacts angrily before pushing him aside. The video has gone viral on Twitter, Facebook and Instagram.
Watch it here:
https://twitter.com/manaman_chhina/status/1196737924475179010?s=20
Here are some reactions to the video:
https://twitter.com/_jaggicheema/status/1196738553667084288?s=20
https://twitter.com/katochaditya/status/1196770702600196097?s=20
https://twitter.com/TayaAmritsaria3/status/1196856604806696960?s=20
https://twitter.com/Nitinsharma631/status/1196822157503819776?s=20
https://twitter.com/_jaggicheema/status/1196738905724338176?s=20
Earlier, in July, a Pakistani news anchor confused the Apple Inc to the fruit 'apple' during a discussion that was live on air. Meanwhile, there was Pakistani pop singer Rabi Pirzada, who was seen  posing with reptiles issuing a threat to PM Narendra Modi over scrapping of Article 370.
https://www.ptcnews.tv/watch-panelist-topples-off-chair-in-pakistan-news-channel-video-netizens-in-splits/
Likewise, a Pakistani analyst fallen off his chair during a live TV debate on the Kashmir issue. The video went viral on social media.
-PTC News