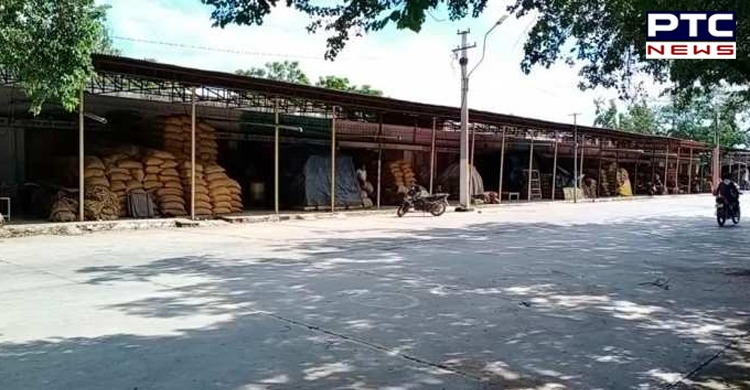 Arhtiyas across Punjab have gone on a four-day strike from Tuesday in protest of the Income Tax raids on many of them recently.
They alleged that they were targeted for supporting farmers' agitation.

Satish Kumar Babbu, president, Arhtiya Association Bathinda said, "Arhtiyas across the state are supporting farmers in their agitation against the farm laws, and we are sending 50 persons every day to protest site on a rotational basis."
Adding, "To discourage us from lending support to the farmers' agitation, the Union Government is conducting income tax raids on arhtiyas, which we totally oppose. And in protest against this action, we have gone for four-day strike across the state from today,"
Also Read | Farmer leaders appeal to protesting farmers to give up path of suicide and join struggle
He said during the strike "we will keep our shops closed and there will be no purchase".
Sham Lal Dalwa, president of the Arhtiyas' Association, Budhlada, stated that the new farm laws would not only "destroy the farming community", but also those connected with agriculture directly or indirectly.
He also condemned the Income Tax raids on arhtiyas in the state.
Also Read | 62 years old Manjit Kaur drives Jeep from Patiala to Delhi to support farmers

 On December 19, raids were conducted by Income Tax Department officials on the premises of Punjab Arhtiyas Association president Vijay Kalra; Samana Mandi unit chief Pawan Kumar Goyal; Patiala unit chief Jaswinder Singh Rana; Nawanshahr unit head Manjinder Singh Walia; Rajpura unit chief Hardeep Singh Ladda; and Rajpura arhtiyas Kartar Singh and Amrik Singh.
Fourteen arhtiyas have received Income Tax notices across the state so far.
-PTC News