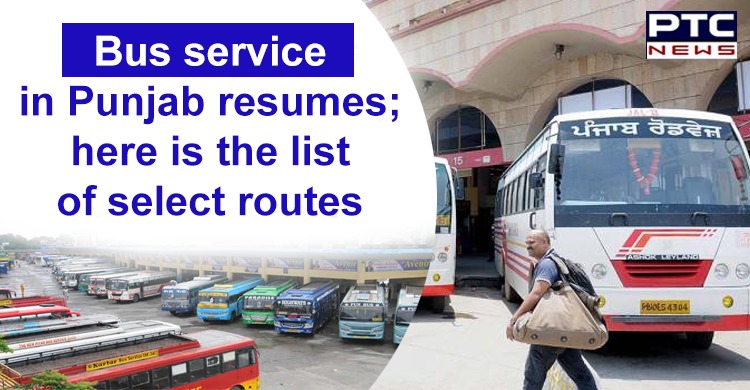 Punjab Government announced that the bus service will resume on the select route from May 20. The buses will ply from point to point between major cities and District headquarters with 50 percent occupancy of its full capacity.

Meanwhile, there is no restriction on the movement of private passenger vehicles within the state from 7 am to 7 pm in non-containment zones. The taxis, autos, and rickshaws will carry two passengers. Scooters and motorcycles have been allowed one person on the pillion.

The decisions were taken in a meeting chaired by the Chief Minister Captain Amarinder Singh on Monday.
The buses will ply on the following routes: 
Chandigarh-Dabwali via Patiala and Bathinda
Chandigarh-Ferozepur via Ludhiana
Chandigarh-Amritsar via Nawanshahr
Chandigarh-Pathankot via Hoshiarpur
Chandigarh-Ambala
Chandigarh-Nangal via Ropar
Bathinda-Moga-Hoshiarpur
Ludhiana-Malerkotla-Patran
Abohar-Moga-Muktsar-Jalandhar
Patiala-Mansa-Malot
Ferozepur-Amritsar-Pathankot
Jalandhar-Ambala Cantt
Bathinda-Amritsar
Jalandhar-Noor Mahal
Amritsar-Dera Baba Nanak
Hoshiarpur-Tanda
Jagraon-Raikot
Muktsar-Bathinda
Ferozepur-Muktsar
Budhlada-Ratia
Ferozepur-Fazilka
Faridkot-Ludhiana-Chandigarh
Baranala-Sirsa
Ludhiana-Jalandhar-Amritsar
Goindwal Sahib-Patti
Hoshiarpur-Nangal
Abohar-Bathinda-Sardulgarh
Ludhiana-Sultanpur
Phagwara-Nakodar
Transport Minister Razia Sultana stated that the new restrictions on the number of persons plying a Taxi, 4 wheelers, and cab aggregator, it shall be limited to one driver and two passengers. Likewise, for Rickshaw and Auto Rickshaws, which are properly registered and paying tax regularly shall be limited to one driver/puller and 2 passengers.
Also Read | Haryana sends proposal to start inter-state bus movement; here is the list of routes 
Similarly, for two-wheelers and bicycles, it shall be limited to one rider or Wife and husband or Rider with one minor child. Detailed guidelines in this regard will soon be issued by the Transport Department.
-PTC News