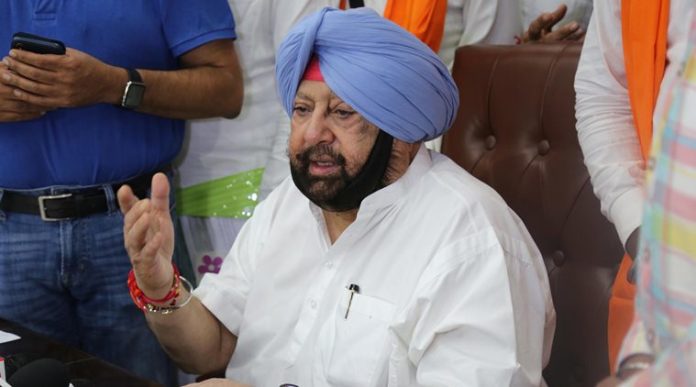 Punjab Government Withdraws Notifications Of Cases Transferred Earlier To CBI
In pursuance of Punjab Vidhan Sabha resolution to withdraw the investigation of sacrilege incidents of Sri Guru Granth Sahib ji from Central Bureau of Investigation (CBI), the state government on Thursday issued fresh notifications to de-notify the earlier notifications issued in this regard to entrust the task of investigations to Special Investigation Team (SIT).
Disclosing this here today, a spokesperson of the Chief Minister's Office said that this decision has been taken in wake of the Report of Inquiry of the Justice (Retd.) Ranjit Singh Commission, which was discussed and deliberated upon in the special session of Punjab Vidhan Sabha on August 28, 2018. It was observed by the House that, even after a lapse of three years from such entrustment of investigation, no report has been filed by the CBI. Given this and considering the importance of the issues at hand, the Vidhan Sabha viewed it appropriate that the incidents of sacrilege to Sri Guru Granth Sahib ji which occurred at Kotkapura, Bargari, Behbal Kalan and the related incidents of police firing, for which cases were registered and investigation entrusted to the CBI be withdrawn from it and be investigated by SIT. It was also felt by the August House that this course of action would bring an efficacious conclusion to the issues of high public importance, would ensure that emotive character of the issue does not adversely affect the civil society in the state of Punjab and would be in the larger public interest.
In exercise, the powers conferred under Section 6 of Delhi Special Police Establishment Act, 1946 (Central XXV of 1946), the Punjab Governor has withdrawn its consent given to all the members of Delhi Special Police Establishment to exercise the powers and jurisdiction of the members of the Delhi Special Police Establishment in the whole of the state of Punjab for investigation into the cases FIR No.128 dated October 12, 2015 under Section 295, 120-B of IPC, FIR No.117 dated September 25, 2015 under Section 295-A IPC and FIR No.63 dated June 2, 2015 under Section 295-A, 380 IPC registered at Police Station Baja Khana in district Faridkot by de-notifying the notification issued on November 2, 2015. Likewise, the notification issued on August 24, 2018 has also been de-notified through which the Governor had earlier  entrusted the investigations to CBI related to case FIR No.130 dated October 21, 2015 registered under Sections 302, 307, 34 of IPC & 25, 27 of Arms Act at Police Station Baza Khana in district Faridkot and FIR No.129 dated August 7, 2018 registered under Section 307, 323, 341, 148, 149 of IPC and Section 27 of Arms Act, 1959 at Police Station City Kotkapura in district Faridkot.
It may be recalled that the state government had constituted a Commission of Inquiry headed by Justice (Retd.) Ranjit Singh on April 14, 2017, which was mandated to conduct an enquiry into the cases of sacrilege of Sri Guru Granth Sahib ji, Srimad Bhagwad Gita and Holy Quran Sharif; enquire into the detailed facts and circumstances and chronology of events of what actually happened and to identify as a matter of fact the role played by various persons into what happened; enquire into the truth of what occurred in such incidents and factual role of the persons who may have been involved; enquire into the firing in Kotkapura on October 14, 2015 and village Behbal Kalan in district Faridkot, in which two persons died; and indentify and enquire into the role of the Police officers/officials in incomplete/inconclusive investigation into the earlier incidents of sacrileges so far.
-PTC NEWS