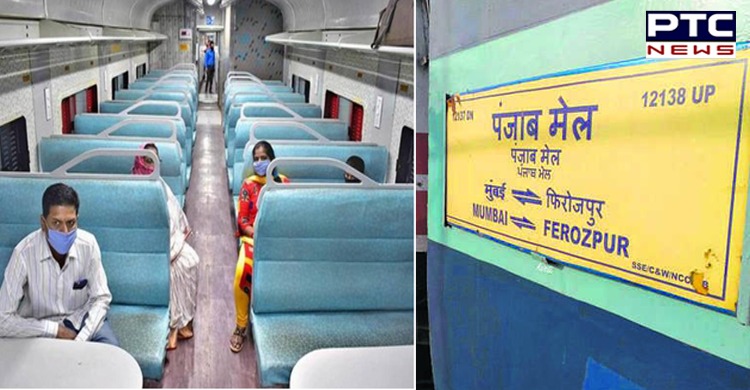 The 108-year-old 'Punjab Mail' is India's one of the oldest trains. It is back on the track once again and is all set for a makeover. The train runs from Ferozepur to Chhatrapati Shivaji Maharaj Terminus (CST), Mumbai, and is known as the lifeline for passengers from the Malwa region going to Delhi or cities on its route till Mumbai.

The train was stopped during the lockdown, but it has now restarted from December 1. The Railways has decided to replace its rakes, made by the Integral Coach Factory (ICF), Chennai, with Linke Hofmann Busch (LHB) coaches, which are faster and more efficient.
A senior official said that ICF coaches were conventional passenger coaches used on a majority of the mainline trains in India. The LHB coaches were developed by Linke Hofmann Busch in Germany, but mostly produced by the Rail Coach Factory in Kapurthala, Punjab.

Also Read | Sports Ministry approves Gatka, Kalaripayattu among 4 indigenous games
The LHB coaches can travel at a much higher speed than ICF coaches. The maximum permissible speed for LHB coaches is 160 kmph, while ICF coaches run at the speed of 110 kmph. Moreover, LHB coaches are equipped with controlled discharge toilets and bio-toilets. They also use Advanced Pneumatic Disc Brake system for efficient braking at a higher speed.
The Punjab Mail was earlier called 'Punjab Limited' and was steamed out on June 1, 1912, from Mumbai, heading for Peshawar, now in Pakistan. Before the Partition, the train ran from Ballard Pier Mole station in Mumbai all the way to Peshawar, covering a distance of 2,496 km in 47 hours.
British officers, civil servants and their families were brought from the South Hampton Port of England to Ballard Pier Mole Station in their ships and then it was run on the tracks up to Peshawar via Manmad, Bhopal, Jhansi, Gwalior, Mathura, Delhi, Ferozepur and Lahore.
It was known to be the fastest train of British India.
-PTC News