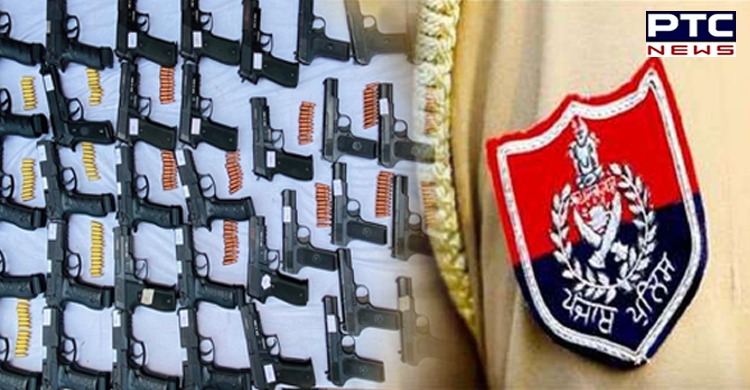 Punjab Police on Thursday night seized a huge cache of foreign-made Pistols and arrested a weapons smuggler allegedly linked with Pakistan-based terrorist outfits and anti-India pro-Khalistani elements based in the USA, Canada, and the UK, and operating on the directions of a USA-based handler.

The weapons were meant for carrying out terrorist activities in various parts of India, said DGP Dinkar Gupta on Friday, giving details of the seizure.
Also Read | PM Narendra Modi announces centralized vaccine drive; Centre will procure all coronavirus vaccines
Jagjit Singh @ Jaggu (25 years) r/o Purian Kalan PS Sadar Batala, Police District Batala, was arrested from near Kathunangal, Amritsar on Thursday night by Punjab Police. Internal Security Wing, SSOC Amritsar, Gupta said. In an intelligence-led operation, SSOC Amritsar intercepted an I-20 car bearing registration no.PB-06-AN-7016 at a specially laid police Naka on Amritsar-Batala road, Kathunangal village.
Also Read | Myths and Facts of COVID-19 vaccination in India; here is what PM Modi govt doing to vaccinate Indians
Punjab Police team recovered from the car two nylon bags containing 48 foreign-made Pistols of different foreign makes and bores, along with magazines and ammunition.
The cache included 19 Pistols 9 mm (Zigana-Made in Turkey), 37 Magazines and 45 rounds; 9 Pistols of .30 bore (Made in China) and 22 Magazines; 19 Pistols of .30 bore (Star mark), 38 Magazines and 148 rounds; and 1 Pistol of 9mm (Baretta-Italian) and 2 Magazines.
Giving details of the weapons smuggling nexus, the DGP said preliminary investigations had revealed that Jagjit had been directed Darmanjit Singh @ Darman Kahlon, a former gangster criminal, to collect this weapon consignment.
Jagjit Singh has been in touch with Darman, at present based in the USA. During his stay in Dubai from 2017 to December 2020, Jagjit had remained in touch with Darman Kahlon who motivated him to work for him.
Click here to follow PTC News on Twitter
-PTC News