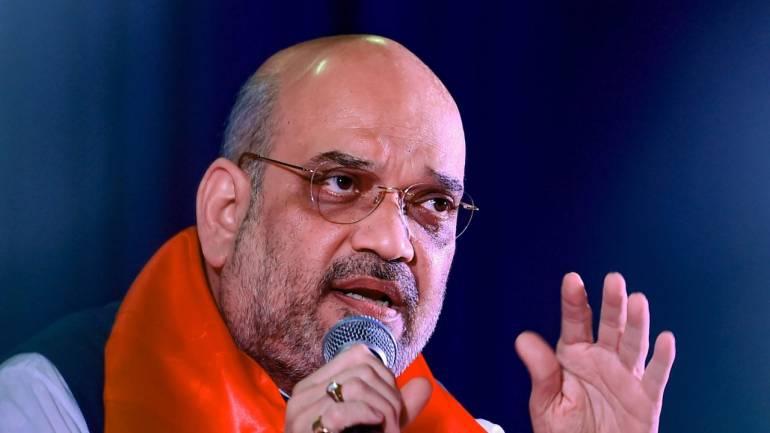 Rahul should give account of 6-decade rule of his family, has no right to question Modi govt: Shah
BJP president Amit Shah attacked Rahul Gandhi, saying instead of demanding an account of work done by Narendra Modi government in the last four years, the Congress president should answer why development did not reach the masses during the "six-decade rule of his family".
Shah was speaking after flagging off the second phase of pre-electoral drive of Chhattisgarh Chief Minister Raman Singh to reach out to voters from Kurubhat village near Dongargarh in Rajnandgaon district. The yatra was renamed in the memory of former prime minister late Atal Bihari Vajpayee.
Addressing a rally at the Pragyagiri ground in Kurubhat village, Shah claimed Rahul Gandhi had no the right to question the Modi government and slammed the performance of previous Congress governments.
"His (Gandhi) government was in power for 60 years but why electricity did not reach villages.... Why farmers did not get better MSP.... Why benefits of other welfare schemes did not reach masses.
"People of the country want to know the account of 60 years of the rule from you," the BJP chief said.
"We don't need to answer you. You don't have the right to ask this question," he said.
Before the launch of the mass outreach campaign, Shah and Singh paid obeisance at Maa Bamleshwari temple in Dongargarh.
Shah also slammed Rahul Gandhi for criticising Raman Singh over the purchase of smart phones for the Sanchar Kranti Scheme (SKY) in Chhattisgarh.
SKY, launched in July this year, is expected to benefit 45 lakh women belonging to poor families and five lakh college students who will be given smartphones.
Shah said, "I was listening to speech of 'Shehzada' (prince) of the Congress. He was asking Modiji's account of the work done during the last four years. Why was he even asking this question?"
"The people of the country wanted to know from Rahul the account of work done during your four-generation rule," he said.
Referring to the alleged coal allocation scam that had surfaced under the previous Congress-led UPA government, Shah said the Congress is a "coal mine thief which committed irregularities in the coal block allocations".
"Rahul baba during his recent visit to Chhattisgarh, was asking why the Raman Singh government did not purchase mobile phones from BHEL under the SKY scheme. BHEL does not manufacture phones and Rahul does not even know that and he is asking for the hisab (account)," he said.
Recalling the contribution of Vajpayee in the formation of Chhattisgarh, Shah said, "Atal ji had founded Chhattisgarh state and Raman Singh has developed it as per his dreams".
The state was formed on November 1, 2000.
Assembly polls are slated to be held in Chhattisgarh along with Madhya Pradesh, Rajasthan and Mizoram later this year.