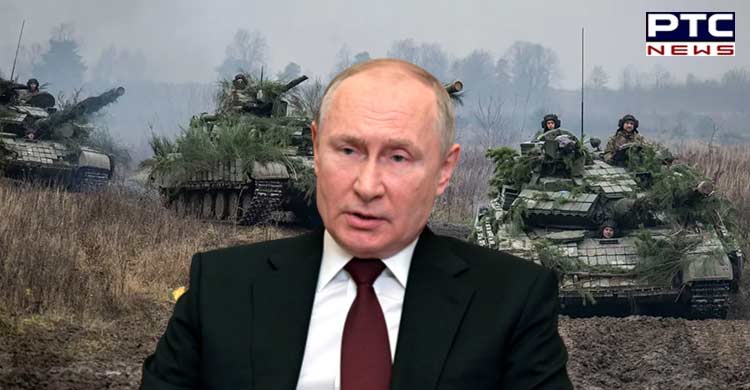 Russia-Ukraine War Highlights: Russian President Vladimir Putin has announced a special "military operation" to protect Donbas, the separatist-held region in eastern Ukraine, media reports said on Thursday. Delivering an emergency address, Putin said the operation has been launched to demilitarize the country. This comes hours after Ukrainian President Volodymyr Zelenskyy said Ukraine has not posed and will not pose a threat to Russia.

Also Read |
Air India's special flight lands at Delhi airport with over 240 passengers from Ukraine
In an emotional appeal delivered largely in Russian, Zelenskyy said "You are being told that Ukraine can pose a threat to Russia. "It was not like this in the past, it is not like this now and it will not be so in the future. You demand security guarantees from NATO. We also demand guarantees of our security - from you, from Russia, and other guarantors of the Budapest memorandum," Zelenskyy said in a video address.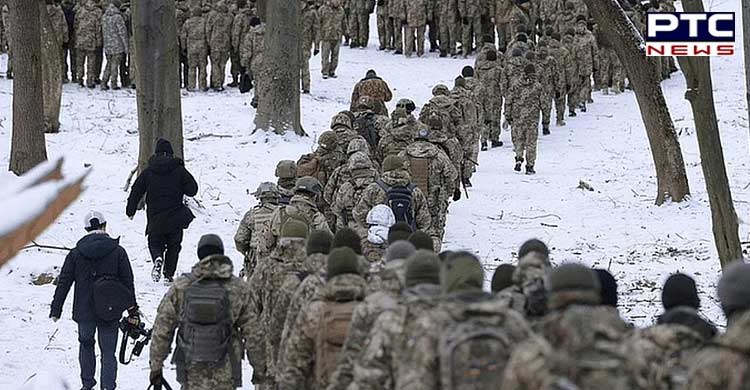 Ukrainian President also refuted Moscow's claims that his country poses a threat to Russia and warned that a Russian invasion would cost tens of thousands of lives. The White House warned on Wednesday that Putin will face significant consequences if Moscow invades Ukraine. Meanwhile, an emergency session of the UN Security Council on the prevailing situation in Ukraine is underway.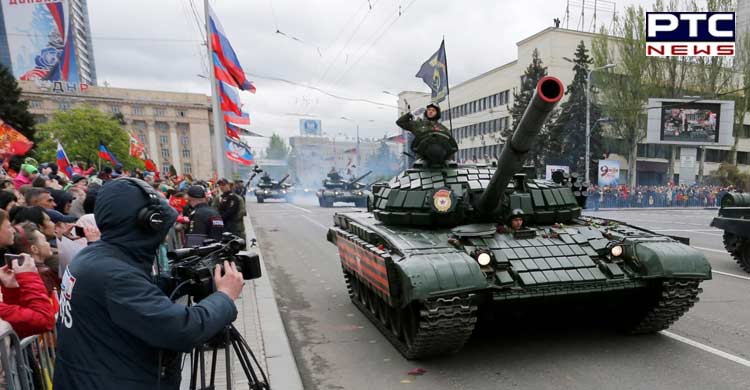 Ukraine requested an urgent United Nations Security Council (UNSC) Meet after Heads of the Ukraine breakaway regions, Donetsk and Luhansk, have asked the Russian President for help. Vladimir Putin has also ordered the sending of the Russian Armed Forces to Ukraine's breakaway regions. Meanwhile, the Ukrainian parliament, Verkhovna Rada, approved declaring a state of emergency in the whole country except for Donetsk and Luhansk regions amid the escalating situation at the country's borders.
Also Read |
Indian students return home as tension over Ukraine escalates
Russia-Ukraine War Highlights :
20:50 pm: Indian Embassy organizes safe premises for Indian students in Ukraine, checkout the list shared by MEA of members on their way to evacuate students from Ukraine.
20:00 pm Appropriate measures are being taken to bring home Karnataka students stranded in Ukraine. Indian Embassy in Ukraine has issued suitable guidelines for the safety of students. We're in constant touch with the Indian Embassy in Ukraine: Karnataka CM Basavaraj Bommai
19:18 pm Civil Aviation Minister Jyotiraditya Scindia: "Flights were flown for Ukraine earlier. Today also flights were flown to Ukraine but after 3 hours when things started escalating those flights came back. Whenever the air-space will open, we'll fly the flights again," said Scindia. "We have been told that the airspace is complete as notice to airmen (NOTAM) has been issued."
18:48 pm |There are 24,000 students from India whereas 2,300 are from Kerala who are stuck in Ukraine and I have too received messages for intervention. Since air-space is closed there is no practical way to fly them back to the country: Congress Lok Sabha MP Shashi Tharoor
18:39 pm | MP Amritsar Gurjeet Singh Aujla writes to S. Jaishankar. Parliamentarian tweets, "Contacted for providing assistance in safe evacuation of Indians stranded at Ukraine. Also shared the details of students and residents of Punjab/India requiring immediate intervention".
18:25 pm | Ukraine military plane with 14 aboard crashes near Kyiv
18:22 pm | French President Emmanuel Macron says Russia attack on Ukraine 'turning point' in European history
18:05 pm | A telephonic discussion with UK Foreign Secretary Liz Truss. Exchanged perspectives on the Ukrainian situation: EAM Dr S Jaishankar
17:56 pm | Embassy of India in Ukraine in its third advisory asks Indian nationals to head to bomb shelters if they are at places where air sirens/bomb warnings can be heard
17:50 pm | Haryana Deputy CM Chautala comes forward to help Indians stuck in Ukraine. Says Indians in Ukraine can contact him on Facebook, Twitter and Whatsapp No.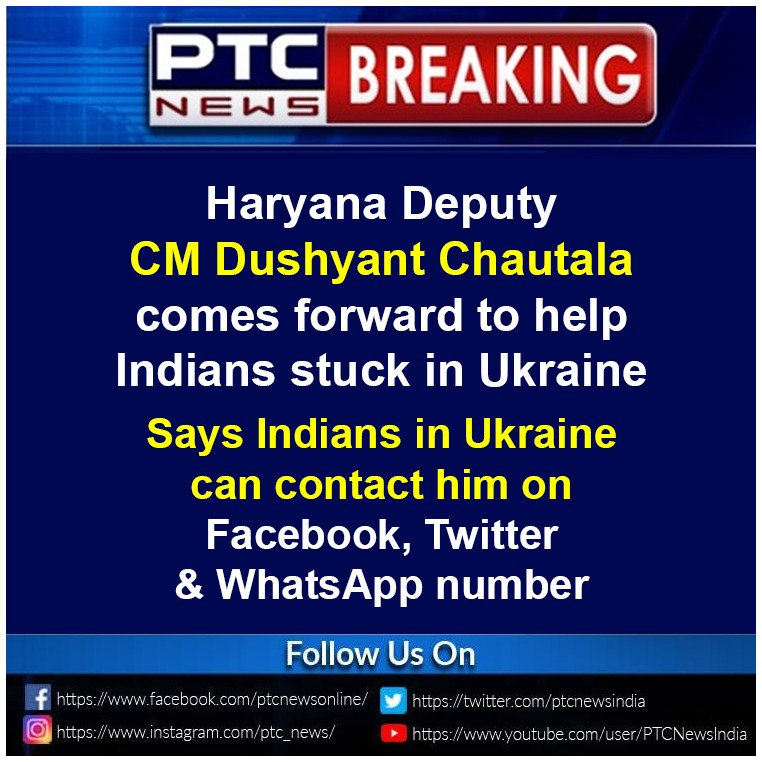 17:44 pm | Government of India, Ministry of Civil Aviation has allowed passengers traveling from Ukraine to travel by transit under India-Qatar bilateral air bubble arrangement: Embassy of India in Doha, Qatar
17:40 pm | I say to the Ukrainians in this moment of agony, we are with you. We are praying for you and your families, we are on your side. I say to the British people, we will do everything to keep our country safe: UK PM Boris Johnson
17:33 pm | Ukraine's military says Russia attacked Ukraine with more than 30 strikes on civilian and military infrastructure, including with Kalibr cruise missiles
17:22 pm | Our government is taking all measures to bring back its citizens including students. India wants peace to prevail and no situation promoting a war should arise: Defence Minister Rajnath Singh : Russia Ukraine Conflict
17:19 pm | Deconfliction is extremely important for us. There have been contacts between our military commanders & Russia. We will continue to reach out to them to make sure that we do everything we can to ensure deconfliction: NATO Secretary-General Jens Stoltenberg
17:18 pm | Eighteen killed in attack near Ukraine's Odessa-official
17:15 pm | Movement difficult because Ukraine under martial law: Indian embassy in Ukraine
17:12 pm | Ukrainian soldiers are abandoning positions and laying down weapons, says Moscow
17:08 pm | NATO allies have also, over a long period of time, provided practical support, military support to Ukraine & helped them to build a much stronger, better equipped & better-trained force today than Ukraine had in 2014: NATO Secretary-Gen Jens Stoltenberg
17:07 pm | Flights were flown for Ukraine earlier. Today also flights were flown to Ukraine but after 3 hours when things started escalating those flights came back. Whenever the air-space will open, we'll fly the flights again: Jyotiraditya M. Scindia, Union Minister for Civil Aviation
17:06 pm | Turkey will continue to support Ukraine's territorial integrity and sees Russia's attack on it as unacceptable, the presidency said today in a statement after President Tayyip Erdogan chaired a security summit over Moscow's offensive
17:03 pm | NATO stands in solidarity with Ukraine. NATO allies are imposing severe costs on Russia for their reckless invasion of Ukraine. NATO allies in close coordination with EU & other partners all over the world are now imposing severe economic sanctions on Russia: NATO Secy-Gen
17:02 pm | I would request everyone to stay calm and face situation with fortitude: Indian envoy to Indians in Ukraine
16:57 pm | Democracy will always prevail over autocracy. Freedom will always prevail over oppression: NATO Secretary-General Jens Stoltenberg
16:56 pm | NATO condemns Russia's invasion of Ukraine in the strongest terms. We call on Russia to immediately seize its military action & withdraw from Ukraine: NATO Secretary-General Jens Stoltenberg
16:52 pm | Smoke rises from the territory of the Ukrainian Defence Ministry's unit in Kyiv
16:45 pm | German Chancellor Olaf Scholz calls emergency parliamentary sitting on Sunday over Ukraine invasion. Putin 'jeopardising peace in Europe', he says
16:37 pm | Received a call from EU HRVP Josep Borrell Fontelles. Discussed the grave situation in Ukraine and how India could contribute to de-escalation efforts: EAM Dr S Jaishankar
16:30 pm | NATO agrees to beef up air, land and sea forces on its eastern flank near Ukraine and Russia.
16:27 pm | MEA is taking steps to bring back about 18,000 Indians incl students from Ukraine. As the air space in Ukraine is closed, alternative arrangements are being made for the evacuation of Indian nationals. Central govt will ensure the safety of all Indians: V Muraleedharan, MoS MEA
16:20 pm | In view of the Russia-Ukraine crisis, CM has expressed concern over safety of people who've gone from Maharashtra for industry, education and business, and has instructed the Chief Secretary to coordinate with the Centre and keep in touch with them: Maharashtra CM's Secretariat
16:11 pm | The Embassy continues to remain open and operate in Kyiv; We are working on mission mode to find a solution to this difficult situation, says Indian Ambassador to Ukraine Partha Satpathy
16:09 pm | Frightened Ukrainians took to metro stations in the capital Kyiv today as air raid sirens rang out across the country's main cities following Russia's launch of its feared military attack
15:58 pm | Russia-Ukraine crisis | Nepal urges all sides to exercise restraint not to escalate tension
"As a member of UN, Nepal views that the principles of sovereignty & territorial integrity as enshrined in UN Charter are sacrosanct & must be fully respected by all member states," MoFA.
15:45 pm | "We will give weapons to anyone who wants to defend the country. Be ready to support Ukraine in the squares of our cities," says President of Ukraine Volodymyr Zelenskyy
15:42 pm | More than 40 Ukraine soldiers, around 10 civilians killed - AFP News Agency quotes Ukrainian president Volodymyr Zelenskyy
15:27 pm | All special flights for Ukraine cancelled; making additional arrangements for Indian citizens: Indian Embassy
15:25 pm | Ukraine breaks diplomatic ties with Russia, AFP News Agency quotes Ukrainian president Volodymyr Zelenskyy
15:15 pm | Adviser to Ukraine President Office says more than 40 Ukrainian soldiers dead and several dozen wounded
15:05 pm | Lithuania declares state of emergency after Russian forces invade Ukraine, Reuters quotes Lithuanian President Gitanas Nausėda
14:50 pm | People living in territories which are part of today's Ukraine were not asked how they want to build their lives when the USSR was created or after WW2. People living in today's Ukraine, anyone who want to do this, must be able to enjoy this right to make a free choice: Putin
14:45 pm | I think that in this case, your Prime Minister can address Mr Putin. He can address our President. Many times in history, India played a peacekeeping role. We're asking for your strong voice to stop this war: Dr Igor Polikha, Ambassador of Ukraine to India
14:40 pm | Ukraine says killed 'around 50 Russian occupiers'
13:07 pm | Security camera footage shows Russian military vehicles crossing into Ukraine from Russian-annexed Crimea
13:58 pm | Ukraine Defence Minister Oleksii Reznikov says anyone who is ready and able to hold a weapon can join the ranks of the Territorial Defence Forces
13:53 pm | MEA control room in Delhi being expanded and made operational on a 24x7 basis to assist the students and other Indian nationals in Ukraine, amid Russia Ukraine Conflict
13:52 pm | These sanctions are designed to take a heavy toll on the Kremlin's interests and on their ability to finance the war: European Commission President, Ursula von der Leyen
13:50 pm | 
We'll weaken Russia's economic base & its capacity to modernise. In addition, we'll freeze Russian assets in EU & stop access of Russian banks to European financial market. Like with the first package of sanctions,we're closely aligned with partners & allies: Ursula von der Leyen
13:45 pm  | Russia's target is not just Donbass, the target is not just Ukraine, the target is stability in Europe and the whole international rules-based order. For that, we will hold Russia accountable: Ursula von der Leyen, President of European Commission : Russia Ukraine Conflict
13:42 pm | MEA control room in Delhi being expanded and made operational on a 24x7 basis to assist the students and other Indian nationals in Ukraine, amid :Ukraine Russia Conflict
13:38 pm | A few members of families of students studying in Ukraine, reach out to the Embassy of Ukraine in New Delhi
"My brother is an MBBS student in Ukraine, we last spoke to him 2 days ago. I came here to find out what help is being extended to them and what is being done, says source
13:30 pm | Russian soldiers cross into Ukraine
13:24 pm | Brent crude tops $100 per barrel after President Vladimir Putin launches Russia's long-anticipated attack on Ukraine
13:20 pm | EU official: European Union assessing the 'strongest, harshest package' of sanctions (against Russia) it has ever considered
13:14 pm | Atleast 7 killed, 9 injured in Ukraine after Russian invasion
13:00 pm| There are reports that war has started in Ukraine. There are students from Kerala in Ukraine. We've already brought it to the notice of the Centre, it's taking action on it. We will ask the Centre to intensify its actions: Kerala CM Pinarayi Vijayan in state Assembly
12:54 pm | US embassy announces security alert for US nationals in Ukraine following Russian President Putin declaring 'military operation' there. "US citizens in Ukraine are advised to shelter in place and take necessary action."
12:53 pm | Citing safety concerns, Denmark's foreign ministry shuts down its embassy in Ukraine capital Kyiv, in a notice on its web page
12:50 pm | Police officers inspect the remains of a missile that fell in the street, after Russian President Vladimir Putin authorized a military operation in eastern Ukraine, in Kyiv
12:45 pm | 
Ukraine interior ministry says 1 killed, 1 wounded in Brovary, Kyiv. Shelling across Ukraine
12:28 pm |  Air India flight AI1947 to land at about 12.35 pm today
12:18 pm | We are closely monitoring the rapidly changing situation. Focus is on safety and security of Indians, particularly students. MEA control room is being expanded and made operational on 24x7 basis
12:15 pm | Focus is on safety & security of Indians, particularly students: Official sources on Ukraine crisis
11:55 am | Europe warns of airspace risks around Ukraine
11:45 am
| Russia says destroyed Ukraine airbases, air defences."
11:43 am
|Ukraine's border guard agency says Russian military has attacked the country from northern neighbour Belarus
11:40 am
|
Ukraine military says five Russian planes and a Russian helicopter were shot down in Luhansk region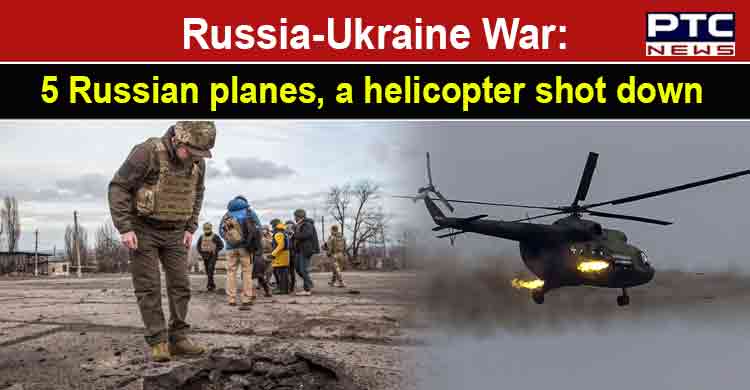 11:30 am
|
Ukraine shot down a Russian fighter jet.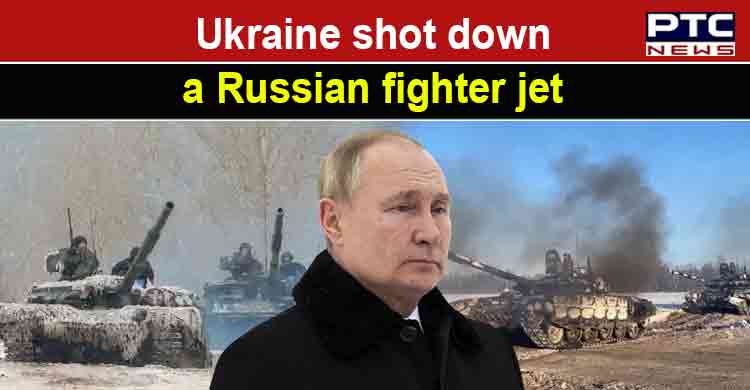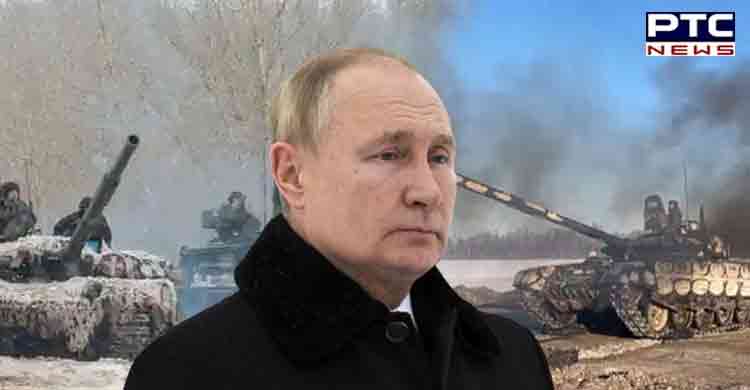 11:20 am
|
"There is still some time left to use diplomacy": Anil Trigunayat, Former Diplomat, on the Russia-Ukraine conflict
11:13 am
|
Ukraine Military Facilities "Being Disabled With Precision Weapons":
11:12 am
|
Ukraine under attack along Russia, Belarus borders: border guards
10:47 am
|
Ukraine leader introduces martial law - urges Ukrainians not to 'panic', vows victory
10:41 am
|
Russian military says it has targeted Ukrainian air bases and other military assets, hasn't targeted populated areas.
10:28 am
| Air India flight AI1947 is coming back to Delhi due to NOTAM (Notice to Air Missions) at, Kyiv, Ukraine.
10:24 am
|
Explosions heard in Ukrainian cities of Odesa, Kharkiv as Russian President Putin announces the launch of military action.
09:50 am
| According to reports, military command centres in two Ukrainian cities- Kyiv and Kharkiv have been attacked by missile strikes.
09:45 am
|
'Kyiv international airport has fallen'
09:40 am
|
Powerful explosions heard in the eastern port city of Mariupol, shortly after Russia announced an operation to "demilitarise" the country.
09:37 am
| Powerful explosions heard on east Ukraine front: AFP
09:33 am
| "
Ukraine will defend itself and will win. Putin has just launched a full-scale invasion of Ukraine. Peaceful Ukrainian cities are under strikes. This is a war of aggression. The world can and must stop Putin. The time to act is now," Ukraine Foreign Minister
09:31 am
| Sensex crashes 1,450 points as Russia announces military operation in Ukraine; Nifty below 16,650
09:25 am
|
"Russian President on record declared war... It's the responsibility of this body to stop this war. I call on everyone to stop the war. Should I play the video of your president calling the war," said Ukraine Representative to Russian Representative at UN emergency meeting.
09:20 am
|
Special operation declared by President Putin is to protect the people of Ukraine who have been suffering for years. We aim to de-genocide Ukraine... Decision made in line with Article 51 of UN charter... We will analyze the situation (in Ukraine)," said Russia Representative.
09:18 am
|
Oil prices break $100 on Russian 'military operation' in Ukraine
09:08 am
| After Russian President Vladimir Putin declares war, an explosion is seen near Kharkiv.
09:08 am
| "Anyone who tries to interfere with us, or even more so, to create threats for our country & our people, must know that Russia's response will be immediate and will lead you to such consequences as you have never before experienced in your history," said Russian President Vladimir Putin.
09:07 am
| Russia alone is responsible for the death & destruction this attack will bring. The US & its allies will respond in a united & decisive way. The world will hold Russia accountable: US President Joe Biden
09:02 am
| Ukraine restricts flights of civil aircraft within the country. NOTAM (Notice to Air Missions) issued. Air India's second special flight AI- 1947 left for Ukraine's Boryspil airport in the morning.
09:00 am
| Russian President Vladimir Putin vows retaliation against those who interfere with Russian Ukraine operation.
08:50 am
| We call for an immediate de-escalation; situation is in danger of spiraling into a major crisis. If not handled carefully, it may undermine security. The security of all parties should be taken into account: India's Permanent Rep to UN, TS Tirumurti at UNSC meeting on Ukraine
08:45 am
| Russia's Putin announces a 'military operation' in Ukraine, calls on Ukraine military to 'lay down its arms.
-PTC News