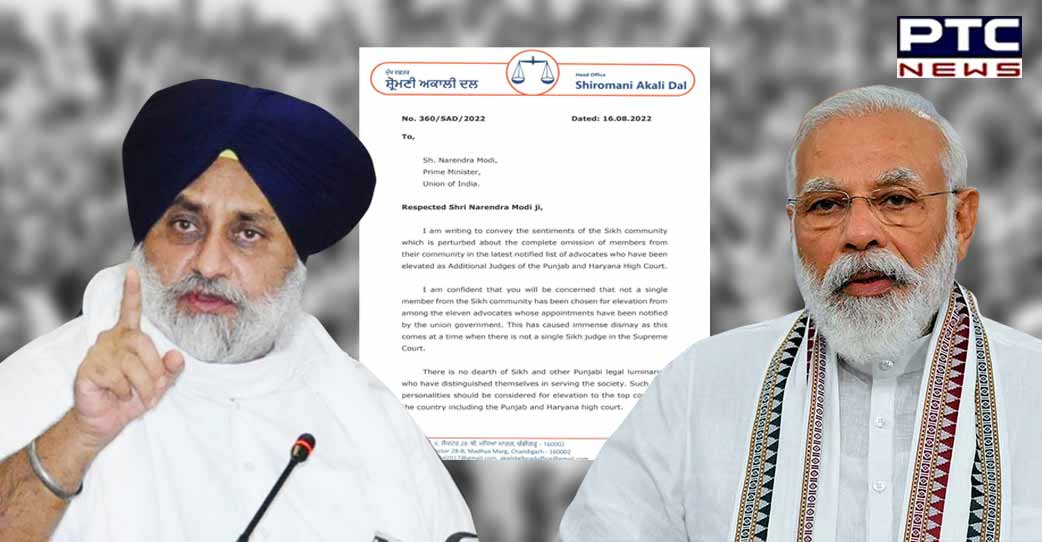 Chandigarh, August 16: Shiromani Akali Dal chief Sukhbir Singh Badal on Tuesday wrote to Prime Minister Narendra Modi and expressed disappointment over the "complete omission of members from Sikh community" in the latest appointments of 11 Additional Judges in Punjab and Haryana High Court.

Notably, the latest list of advocates who have been elevated as Additional Judges of the High Court has been notified by the union government. "This has caused immense dismay as this comes at a time when there is not a single Sikh judge in the Supreme Court," the Shiromani Akali Dal supremo said.
Sukhbir Badal went on to say that "there is no dearth of Sikh and other Punjabi legal luminaries who have distinguished themselves in serving the society. Such able personalities should be considered for elevation to the top courts of the country including the Punjab and Haryana high court."
He further urged the Prime Minister to look into the matter and "rectify this situation as a wrong message has been sent to the nationalistic Sikh community."
Also Read | Amul, Mother Dairy to hike milk prices from Aug 17; check revised rates
"The Sikh community has given the nation revolutionaries like Shaheed-e-Azam Bhagat Singh. Out of a total of 121 freedom fighters who courted the gallows in the fight for freedom, as many as 93 were Sikhs. Similarly, as many as 2,147 Sikhs were interred at Kala Pani (Andamans and Nicobar islands) from among the total 2,646 inmates incarcerated there as part of their life sentence. All this is a matter of record," he continued.
Saying that Punjabis have always been victimised, Sukhbir Badal noted that "We are the only ones who don't have their own capital; we don't have right over our waters as per the riparian principle and have lost our Punjabi speaking areas at the time of reorganization of the State."
"We have also been adversely affected because our neighbours were given special economic packages," he added.
Also Read | Kejriwal urges Centre to not term free education, healthcare as 'freebies'
-PTC News