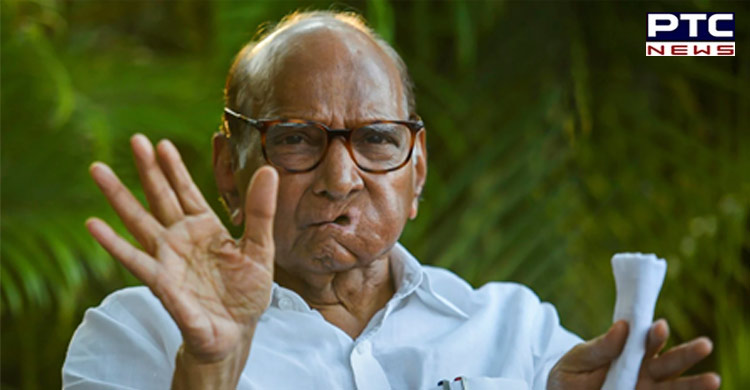 Mumbai (Maharashtra), July 21: Nationalist Congress Party (NCP) chief Sharad Pawar has dissolved all the National level departments and cells of his political party with immediate effect, the party's General Secretary Praful Patel informed.

Confirming the NCP's decision, Patel took to Twitter and said that the development comes with the NCP chief's approval. "With the approval of our National President Hon'ble Shri Sharad Pawar Saheb, all the National level Departments and Cells of @NCPspeaks excluding Nationalist Women's Congress, Nationalist Youth Congress and Nationalist Students Congress stand dissolved with immediate effect, he added.
"This decision does not apply to Maharashtra or any other state unit," Patel further said.
According to sources, the move is intended to reorganize the NCP following the recent collapse of the Maha Vikas Aghadi (MVA) government in Maharashtra, which is formed by the Shiv Sena, Congress, and NCP.
The NCP was a key component of the Shiv Sena-led coalition government, which fell apart in late June following a mutiny by Shiv Sena MLAs led by Eknath Shinde against Uddhav Thackeray.
After Shiv Sena MLA Eknath Shinde's 10-day revolt knocked down the Maha Vikas Aghadi (MVA) government, the new Maharashtra government assumed charge.
Also Read | India to get its 15th President today: Counting to begin at 11 am at Parliament House
On Monday, Maharashtra Chief Minister Eknath Shinde stated that he has the support of 18 Shiv Sena MPs, not just 12. Shinde, who arrived in Delhi to address OBCs in the state, also expressed confidence that the Supreme Court will decide in his government's favour on July 20.
"Shiv Sena MPs will meet us. We have 18 MPs, not just 12," Shinde said ahead of a virtual meeting with Shiv Sena MPs. "We have unwavering faith & trust in our judiciary. In a democracy, the majority (in Assembly) holds significance. We've followed all the rules," he added.
Meanwhile, the Supreme Court on Wednesday scheduled a hearing on August 1 for petitions filed by both factions of the Shiv Sena relating to Shiv Sena party control and the current political crisis in Maharashtra that brought down the Maha Vikas Aghadi (Congress-Shiv Sena-NCP) government.
The Supreme Court decided to hear Uddhav Thackeray's petition challenging the disqualification of MLAs by the Maharashtra Assembly Speaker. The Supreme Court will also hear a petition from the Eknath Shinde camp challenging disqualification notifications issued by the Maharashtra Deputy Speaker.
Also Read | Punjab CM Bhagwant Mann admitted to hospital after feeling unwell: Reports
-PTC News