Mumbai, May 21: Mumbai, known for its bustling city life, relies heavily on its local trains for daily commutes. These trains are an integral part of the city's identity, often depicted in documentaries, advertisements, and Bollywood movies.
However, a recent video has taken social media by storm, showcasing an unexpected regular commuter on the Mumbai local train: a dog. The heartwarming video, posted by India Cultural Hub on Instagram, has garnered immense reactions from internet users, capturing the charm of this unique situation.
In the video, a stray dog confidently boards the train, becoming a familiar face among the regular passengers. The clip showcases the dog's journey from Borivali to Andheri station, where it peacefully occupies a spot on the train floor, unobtrusively observing its surroundings.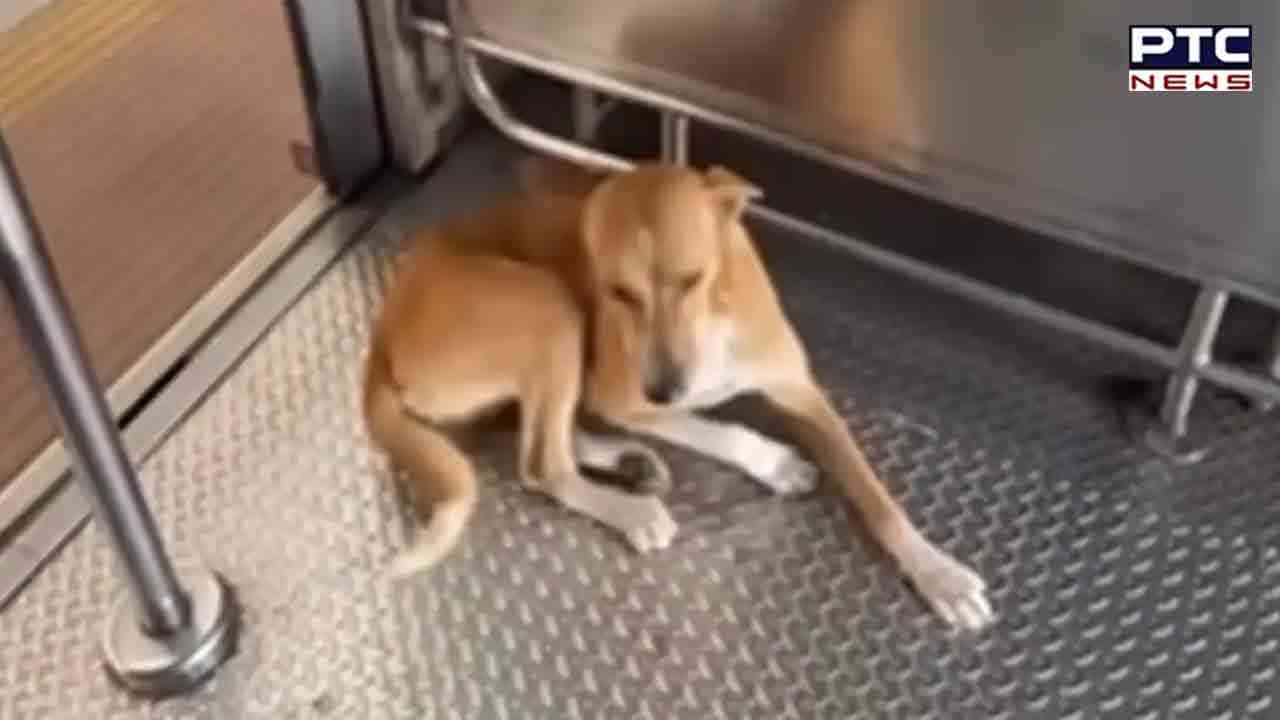 Also Read: Heartwarming Interaction: Indian teen politely declines US blogger's offer to pay for food
The adorable moment when the dog gazes out of the door has melted the hearts of many social media users. Even fellow passengers attempting to enter the train express their surprise, but ultimately greet the furry traveler with smiles, allowing it to enjoy its ride near the entrance.
The caption accompanying the post reads, "Meet the local train's regular traveler in #Mumbai, Here's something to lighten up your weekend!" Since its sharing, the video has garnered an impressive one lakh likes and 8.3 lakh views, captivating viewers with this extraordinary display of animal behavior.
Internet users have expressed their delight and admiration for the dog's train adventures. One user aptly commented, "It's his world, and we are just part of it," acknowledging the dog's comfortable presence among the human commuters. Another individual expressed their curiosity to meet the dog, sharing, "I certainly want to know what time the train from Borivali station departs, so I can go meet this little bundle of happiness." Others appreciated the freedom and coexistence between humans and animals, stating, "Love to see them roam freely, take a free train ride, and coexist peacefully."
Some users even shared their personal encounters with the dog, adding to the charm of the story. One person remarked, "Yes, I have seen him. He gets back to Andheri at night. He is such a smart baby." Another user playfully suggested, "Someone tell him to take a fast train from Borivali to Andheri!"
A touching remark emphasised the concept of peaceful coexistence, stating, "Stories like these restore my faith in the concept of 'peaceful co-existence.' The fact that the dog can safely navigate the densely crowded platforms and board and exit the train speaks volumes."
This delightful tale of the dog's daily commute serves as a reminder of the unexpected connections and harmonious coexistence found in the diverse fabric of Mumbai's vibrant city life.
Also Read: Bengaluru Woman's Romantic Gesture: Husband's name tattooed on forehead
- With inputs from agencies