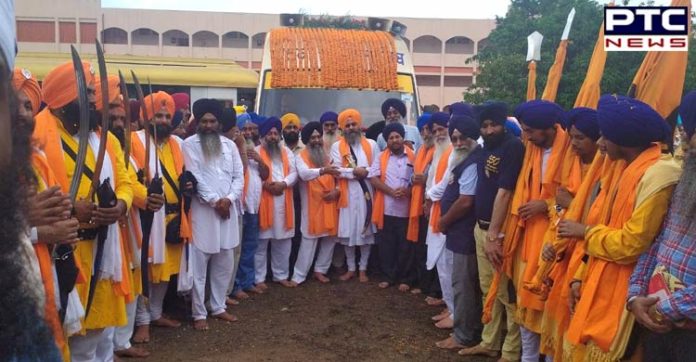 The International Nagar Kirtan departs from Durganagar to Kolkata in West Bengal on Wednesday, which is to mark the celebrations of 550th Parkash Purab. The International Nagar Kirtan on Tuesday arrived Durganagar in West Bengal, where after taking rest, it has again started its journey. The Palki Sahib was welcomed in Durganagar with prosperity and fireworks.
The International Nagar Kirtan is here from the Sr Nankana Sahib in Pakistan, which is the birthplace of Guru Nanak Dev Ji marking 550th birth anniversary of Nanak Ji. The International Nagar Kirtan entered India from the Wagah Border in Amritsar on August 01, 2019, after which the Palki Sahib is roaming across India. This is indeed a historical moment for all the Sikh Devotees.
WATCH: That's How West Bengal welcomed the International Nagar Kirtan
The Shiromani Akali Dal President Sukhbir Singh Badal, Union Minister Harsimrat Kaur Badal, Bikram Majithia, along with other key leaders were present at Wagah Border to welcome the International Nagar Kirtan coming all the way from Sri Nankana Sahib in Pakistan. Meanwhile, it was Delhi Sikh Gurudwara Management Committee (DSGMC) President Manjinder Singh Sirsa who was present at Sri Nanakana Sahib, who brought Palki Sahib in India and called it as the historical moment.
-PTC News