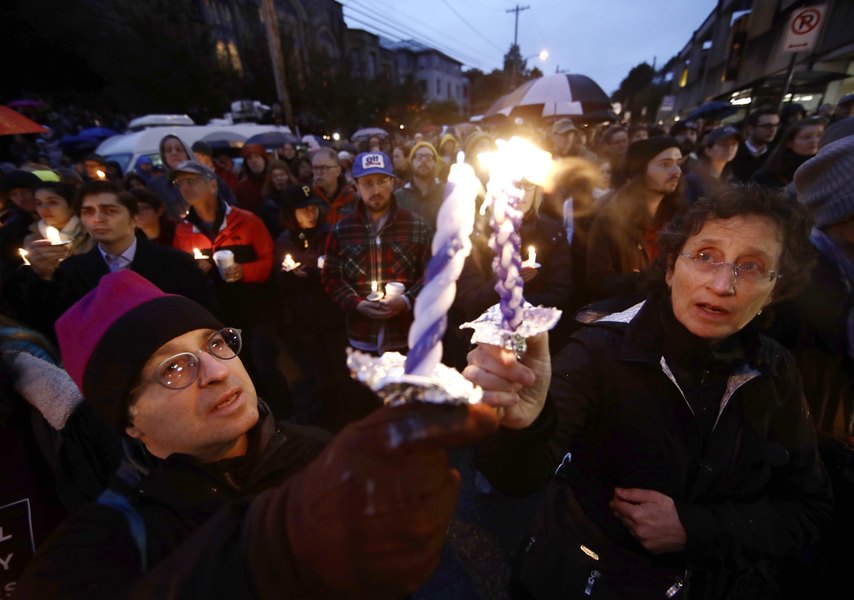 An armed man stormed a synagogue and shot worshippers in the US city of Pittsburgh, killing at least 11 people and injuring six others, including four policemen, in the deadliest attack on Jews in the history of America.
The shooter, identified as 46-year-old Robert Bowers, surrendered after he was injured during an exchange of fire with the police at 'Tree of Life' Congregation Synagogue at Squirrel Hill in Pittsburgh, where a large number of people had gathered for a baby naming ceremony.
Pittsburgh Public Safety Director Wendell Hissrich said that 11 people were killed and six others injured including four policemen. He added that there were no children among fatalities or injured.
Bowers, whose social media account reflected his hatred against the Jews, was charged with 29 counts of federal crimes of violence and firearms offences, federal prosecutors said.
The charges include 11 counts of obstruction of an exercise of religious beliefs resulting in death; and 11 counts of use of a firearm to commit murder during a crime of violence.
"The crimes of violence are based upon the federal civil rights laws prohibiting hate crimes," US Attorney for the Western District of Pennsylvania Scott W Brady said.
The FBI is investigating this as a "hate crime". Before opening fire, Bowers reportedly yelled, "All Jews must die!"
FBI Pittsburgh Special Agent in Charge Bob Jones said the investigation was in its early stages and there was no knowledge if the shooter was known to the law enforcement till this date.
"Gunman targeted (people) because of their faith. At this time, we believe that he was acting alone," he said.
Describing the mass shooting as an "anti-semitic act", President Donald Trump called for the death penalty for such shooters.
"This wicked act of mass murder is pure evil, hard to believe, and frankly something that is unimaginable. Our nation and the world are shocked and stunned by the grief. This was an anti-semitic act," he said.
President Trump ordered that American flags be flown at half-staff at the White House and upon all public buildings and grounds, and all military bases till October 31 as a mark of "solemn respect" for the victims.
Despite his earlier reservations, Trump continued with his days' programme and addressed a well-attended election rally in Illinois arguing that one cannot let their schedules or lives change.
"It's just the way it is. No matter how you look at it, you just can't let them get away with it. They're evil, they're bad, this was an anti-Semitic act which is incredible in this day and age that something like that can happen, but it happened," he told reporters in Murphysboro, Illinois, where is addressed a massive election rally.
The US goes to mid-term polls on November 6 wherein people would be electing members of the House of Representatives, one-third of the Senate and several State Governors.
"The hearts of all Americans are filled with grief following the monstrous killing of Jewish Americans," he said at an election rally in Illinois.
"This evil, an anti-Semitic attack is an assault on all of us. It's an assault on humanity. It will require all of us working together to extract the hateful poison of anti-Semitism from our world," he said.
"The scourge of anti-Semitism cannot be ignored, cannot be tolerated, and it cannot be allowed to continue. We can't allow it to continue. It must be confronted and condemned everywhere it rears its very ugly head," he said.
Trump acknowledged that the country feels terribly after this tragic incident. "This was just a horrible, horrible event," he said.
"What happened in Pittsburgh today was not just criminal - it was evil - an attack on innocent Americans and an assault on our Freedom of Religion. There's no place in America for violence or anti-Semitism, and this evil must end," Vice President Mike Pence said.
Asserting that hatred and violence on the basis of religion can have no place in society, Attorney General Jeff Sessions said every American has the right to attend their house of worship in safety.
"Hatred and violence on the basis of religion can have no place in our society," Sessions said.
"These alleged crimes are reprehensible and utterly repugnant to the values of this nation. Accordingly, the Department of Justice will file hate crimes and other criminal charges against the defendant, including charges that could lead to the death penalty," Sessions said.
Former President Barack Obama called his fellow countrymen to fight the rise of anti-Semitism. "All of us have to fight the rise of anti-Semitism and hateful rhetoric against those who look, love, or pray differently. We have to stop making it so easy for those who want to harm the innocent to get their hands on a gun."
Israeli Prime Minister Benjamin Netanyahu said, "I was heartbroken and appalled by the murderous attack on a Pittsburgh synagogue".
Trump said that he plans to go to Pittsburgh.
"I will be going to Pittsburgh. I've been in touch with the governor, and I've been in touch with the mayor," he said.
Being accused by his political opponents who blame his rhetoric for the current divisive atmosphere in the country, Trump refused to change the tone of his election campaign.
"I would like to be able to have the tone that I have because I feel very strongly about it and I'd have a much different tone frankly if the press was evenhanded. If the press was fair, I'd have a much different tone all the time," Trump said as he reiterated that his fight against the media will continue. PTI