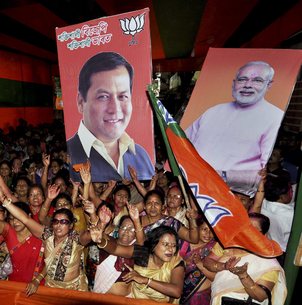 New Delhi, May 19 (PTI) Scripting history, the BJP today stormed to power in Assam bagging a government in the north east for the first time dethroning Congress which also lost Kerala while Jayalalithaa and Mamata Banerjee retained power in Tamil Nadu and West Bengal with spectacular victories.
The Congress could take solace only in Puducherry where it managed to get a simple majority along with DMK to wrest power from AINRC headed by N Rangaswami, a former Congressman.
The results of the assembly elections saw the end of Congress rule in Assam where it had scored a hat-trick in the last elections under Tarun Gogoi.
With Union Minister Sarbananda Sonowal as its Chief Ministerial face, the BJP and its allies AGP and Bodo People's Front scored a landslide victory.
In the 126-member Assam Assembly, BJP won 24 seats and was leading in 38 (total 62), AGP won 6 and was leading in 8 (total 14) and BPF won 7 and was leading in 4 seats (total 11). The BJP last time had just 5 seats while the AGP had 10 and BPF had 12.
The Congress, which had secured 78 seats in the last elections, was today victorious in 10 seats and was leading in 14 (total 24). The AIUDF, led by Badrudin Ajmal, won 3 seats and was ahead in 10 (total 13).
In neighbouring West Bengal, Trinamool Congress headed by Mamata Banerjee was set to secure a two-thirds majority, fighting it alone against the Left-Congress combine.
Bettering its performance over the 2011 elections, Trinamool Congress, which had then contested in alliance with Congress and won 184 seats in the 294-member Assembly, has now won 98 seats and leading in 113 (total 211).
The Congress, which had last time got 42, improved a bit by securing three more seats this time. It was already declared winner in 14 seats and was leading in 31.
Its ally CPI(M) registered a big slide as it got only 26 seats against 40 it had last time. The party was declared winner in 9 seats and was leading in 17. CPI(M) allies CPI, Forward Bloc and RSP were ahead in 5 seats. Forward Bloc has already won one seat. .