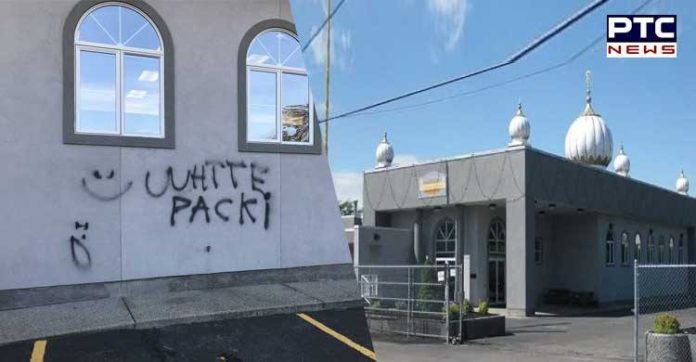 British Columbia's Gurdwara vandalized with racist graffiti
Gurdwara Guru Amardas Darbar Sikh Society in British Columbia was vandalized with racist graffiti on Monday. The racist graffiti on a Sikh temple in Kelowna is drawing words of condemnation.
Also Read: Chant Hanuman Chalisa to tackle unseasonal rains, says leader
The World Sikh Organization (WSO) of Canada has been in touch with the members. They are offering full support to the Gurdwara. WSO's Vice President, Amanpreet Singh Hundal, expressed his disappointment by what all happened.
He told the media sources, "We believe it is ignorance and fear that drives racism, and the Sikh community will continue to reach out to educate and build bridges despite incidents like this. Local gurdwaras in Kelowna regularly host high school students for tours and information sessions on the Sikh faith and those will continue. Whoever vandalized the gurdwara would have been better served to actually learn more about the Sikh community by going inside the gurdwara to ask questions and enjoying the free meal available to all visitors. Kelowna is our home and racist incidents like this won't phase us."
Also Read: Statue of Sikh soldier vandalized after less than a week
It's not the first time Kelowna's Sikh temple has been vandalized. This time, the black lettering was spray painted on the side of the building near the parking lot. The first time the temple was vandalized said the authorities covered it up quietly, but this time they contacted police.
-PTC NEWS