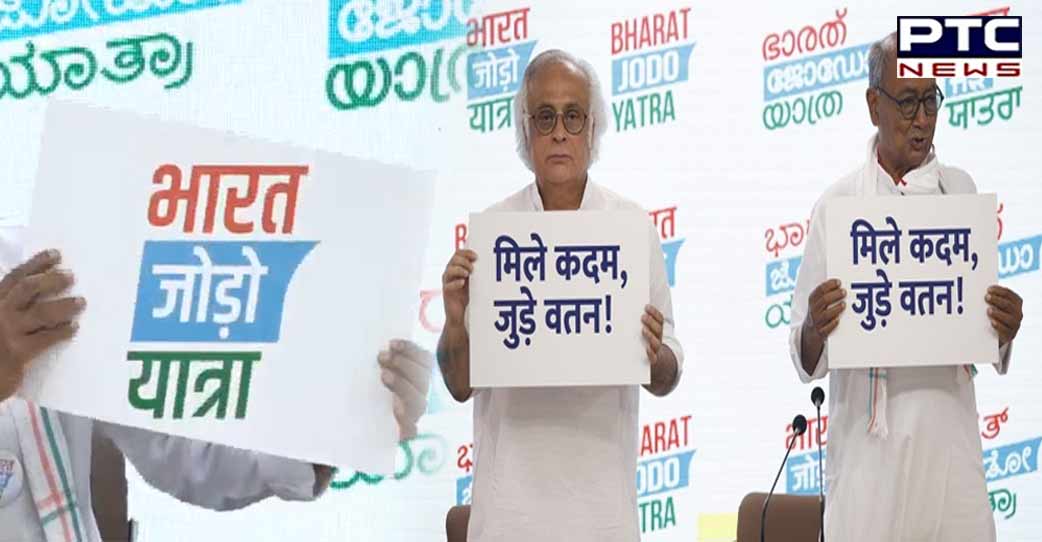 New Delhi, August 23: As Congress gears up for the upcoming Bharat Jodo Yatra, senior party leaders on Tuesday released the logo, tagline, and pamphlet of the Yatra in the national capital.

'Mile kadam-Jude vatan,' the tagline of the Congress campaign roughly translates to unite steps and the country will get together.
Giving further details about the rally, Congress General Secretary (Communications) Jairam Ramesh said, "We've also launched a website."
Congress is set to embark on 'Bharat Jodo Yatra' from Kanyakumari on September 7 under the leadership of party leader Rahul Gandhi.
Also Read | Congress stages dharna outside VB after Bharat Bhushan Ashu's arrest
The 148-day march will come to an end in Kashmir. The five-month yatra will cover a distance of 3,500 kilometres and more than 12 states.
The padayatra (march) will cover a distance of 25 km daily.
Senior Congress officials including Sonia Gandhi and Priyanka Gandhi Vadra will attend the padayatras, rallies, and public meetings that will be part of the yatra. The assembly elections for this year's state assembly were a disaster for Congress, and the yatra is considered an effort to mobilize the party's base voters for the upcoming election.
Rahul Gandhi will collaborate with civil society to develop a strategy for the general elections of 2024 before he embarks on his Bharat Jodo Yatra on September 7 from Kanyakumari. Prior to his Bharat Jodo Yatra, Gandhi would engage with groups and people fighting for many aspects of society.
Also Read | Rising Monkeypox cases will not lead to HIV: ICMR scientist
-PTC News