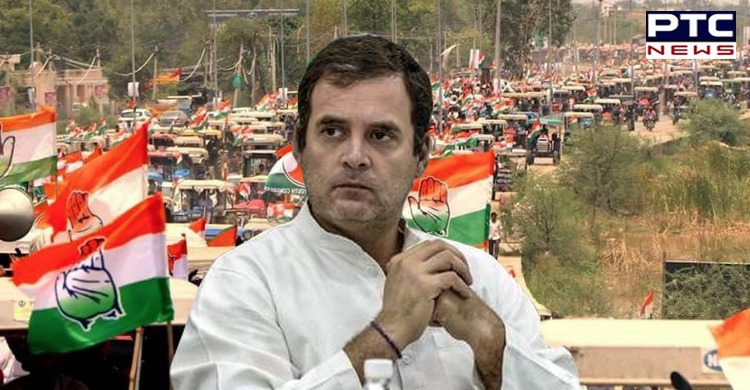 Congress leader Rahul Gandhi was supposed to arrive on October 3 in the Moga district. However, his proposed tour in Punjab has been rescheduled from October 4 to October 6.

He, along with Chief Minister of Punjab Captain Amarinder Singh and PPPC President Sunil Jakhar, will begin the three-day tractor rallies in protest against the controversial farm legislations on October 4 from Badhni Kalan in the Moga district.
AICC General Secretary and in-charge of the political affairs of Punjab Harish Rawat said these protest rallies had been proposed by the Congress party to voice its anger against the controversial farm legislations brought in by the NDA government arbitrarily without looking at the plight of the farming community, also disturbing the age-old traditional system of the marketing of crops.
"They have been brought by the NDA government to benefit the big corporate houses. The fears are looming large that the small and marginal farmers will lose their lands to the big corporate houses through contract farming," Harish Rawat said.
According to the reports, the tractor rallies are expected to be supported by farmers' organizations and would cover more than 50 km spread over three days in various districts and constituencies. The tractor rallies are scheduled at around 11 am on each of the three days and will be conducted amid strict COVID-19 protocols.
Also Read | Remembering Mahatma Gandhi on 151st birth anniversary, PM Modi, President Kovind among others pay tribute
The protest rally on October 4 will cover a total distance of 22 km starting with a public meeting at Badni Kalan in Nihal Singh Wala sub-division of Moga district before moving through Lopon village in the district. The rally will then move into Jagraon area in Ludhiana district where it will pass through Chakar, Lakha and Manoke villages culminating at Jattpura village near Raikot in Ludhiana district.
On October 5, a total of 20 km will be covered, beginning with a reception at Barnala Chowk, Sangrur, from where Rahul and his team will travel by car to Bhawanigarh for a public meeting before embarking on tractors to Samana in Patiala district. Rahul will stop at Fatehgarh Chhana and Bahmna villages for a brief period before ending the day with a public meeting at the grain market in Samana town.
Also Read | CBI hints at Section 302 in Sushant Singh Rajput's death case
On October 6, the protest will begin from Dudhan Sadhan village in Patiala district with a public meeting and the tractors will then travel 10 km to Pehowa border from where Rahul will enter Haryana for a series of programmes in the neighboring state.
-PTC News