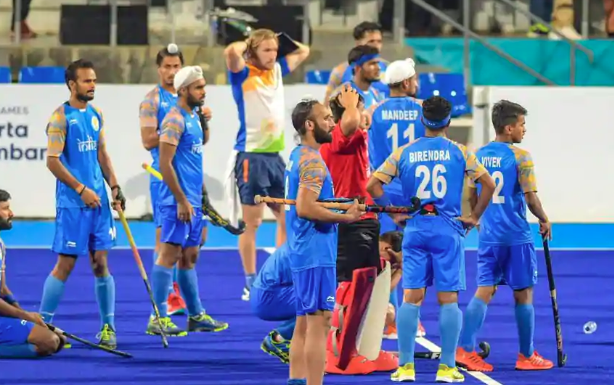 India lead 1-0 against Pakistan in Asian Games hockey bronze match
India would look to get the bronze medal after they were denied a direct entry into the 2020 Olympics.
In their last meeting which was at the Champions Trophy Hockey tournament in Breda, India crushed Pakistan 4-0. In that match. India were runners-up in the tournament, losing 1-3 to world champions Australia on penalties, Pakistan were last.
. India started their Asiad campaign strongly by registering big wins over their opponents. En route to the semifinal, India had beaten Indonesia 17-0, Hong Kong 26-0, Japan 8-0, Korea 5-3 and Sri Lanka 20-0. However, the Indian men's hockey team, who were the favourites to win an Asian Games gold, could not cross the Malaysian hurdle, losing the semifinal 6-7 in a shoot-out. Pakistan, on the other hand, topped Pool B with a total of 15 points.
In the group stage, Pakistan beat Thailand 10-0, Oman 10-0, Kazakhstan 16-0, Malaysia 4-1 and Bangladesh 5-0. However, in the semifinals, Pakistan lost 0-1 to Japan. In the 2014 Asian Games, India had beaten Pakistan 4-2 in a shoot-out to win an Asiad Gold in hockey after 16 years. Prior to that, India defeated Pakistan in 1966 Asian Games to win the coveted gold medal. India had beaten South Korea to win gold in Asian Games 1998.