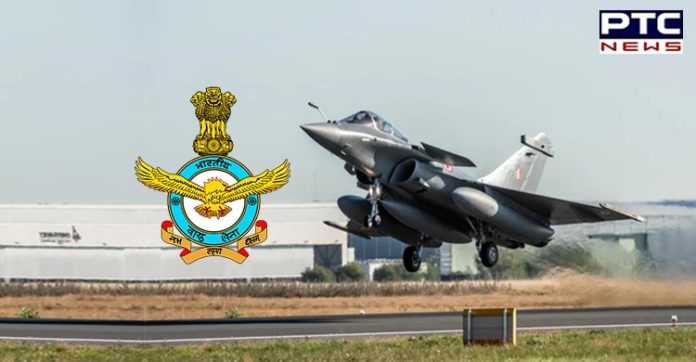 The Indian Air Force (IAF) on Thursday formally inducted the Rafale fighter jets at Air Force Station in Ambala. The aircraft is a part of 17 Squadron — the "Golden Arrows". The Defence Minister Rajnath Singh and French Defence Minister Florence Parly were present as the chief guests for the event.

It is the third official visit of French Defence Minister Parly to India since 2017. Also, it is one of her first official trips since the outbreak of the coronavirus pandemic.
She was received by Rajnath Singh and the Chief of the Air Staff, Air Chief Marshall RKS Bhadauria. The French Minister was accompanied by top executives from Dassault Aviation, Thales Group, Safran, and MBDA, representing the French defence majors that have been associated with many Indian companies as part of the Rafale agreement.
#WATCH Rafale fighter aircraft flying at low-speed during an air display at Indian Air Force base in Ambala pic.twitter.com/8UhgbROzRN

— ANI (@ANI) September 10, 2020
Meanwhile, Air Force Chief Air Chief Marshal RKS Bhadauria said that "This induction could not have happened at a more opportune time considering the security scenario today." Rajnath Singh said that "The induction of Rafale into IAF also represents the strong ties between India and France. The strategic ties between our two countries have also strengthened."
"Rafale induction is a big and stern message for the entire world, especially to those eyeing our sovereignty. This induction is important considering the kind of atmosphere at our borders or should I say the kind of atmosphere created at our borders," he said.
He said that "In my recent foreign trip, I put the point of view of India in front of the world. I also made everyone aware of our resolve to not compromise our sovereignty and territorial integrity under any circumstances. We're committed to doing everything possible towards this."
"I would like to congratulate our colleagues of the Indian Air Force today. During the recent unfortunate incident at the border, the swift and deliberate action taken by Indian Air Force near LAC shows your commitment," he added.
"The speed at which IAF deployed its assets at forwarding bases creates confidence that our Air Force is fully prepared to fulfill its operational obligations," he concluded.
Also Read | India records biggest daily rise in COVID-19 cases; tally rises to 44,65,864
Minister of the Armed Forces of France Florence Parly said that "Today, is an achievement for our countries. Together we are writing a new chapter in India-France defense ties." "We are fully committed to 'Make in India' initiative, as well as, to the further integration of the Indian manufacturers in our global supply chain," she added.
"France supports India's candidacy for the UN Security Council," she said.
The first 5 Indian Air Force Rafale aircraft arrived at Ambala Air Force Station from France on July 27. These include three single-seaters and two twin-seaters. The Defence Minister Rajnath Singh had paid a visit to France in October last year to accept the first batch of the Rafale jets on the festival of Dussehra.
-PTC News