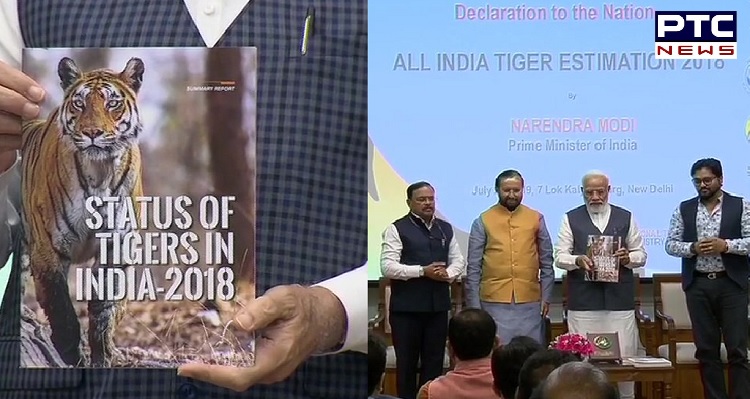 Delhi: Prime Minister Narendra Modi on Monday released the 'All India Tiger Estimation 2018' on the occasion of International Tiger Day. The whole nation is celebrating World Tiger Day. Also, in term of Save Tigers, everyone joins their hands to celebrate Global Tiger Day.
https://twitter.com/ANI/status/1155694864199278597
Likewise, Prime Minister Narendra Modi said on Tiger Day, "Today, we reaffirm our commitment towards protecting the tiger. Results of the just declared tiger census would make every Indian happy. 9 yrs ago, it was decided in St. Petersburg that target of doubling tiger population will be 2022. We completed this target 4 years early.
https://twitter.com/ANI/status/1155704870483181568
Also, PM Modi said, "Today, we can proudly say that with nearly 3000 tigers, India is one of the biggest and safest habitats in the world."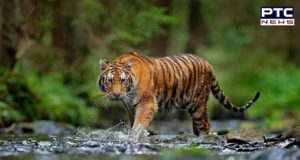 India is home to 70 percent of tigers in the world. Officially, India had 2,226 tigers as of 2014. In 2008, there were 1,411 tigers which increased to 1,706 in 2010 and 2,226 in 2014. 
https://twitter.com/PIB_India/status/1155694040140017664?s=20
International Tiger Day is a reminder that we must work together to save this heroic animal, to have him live happy in his natural habitat.
https://twitter.com/archanavijaya/status/1155686494620672001?s=20
"I had the good fortune to say Hello to Arrowhead, in Ranthambore a while ago. She sat there, cooling off in a shallow stream for about 10 minutes before disappearing into the jungle again. One of my best safari experiences ever!", said an official twitter user.
https://twitter.com/SarveshSays/status/1155701585390927872?s=20
"Less than 4,000 tigers are remaining due to human activities including habitat destruction & illegal wildlife trade. Time to raise awareness about tiger conservation. Don't strip the stripes from the scenery", appealed a Twitter user.
-PTC News