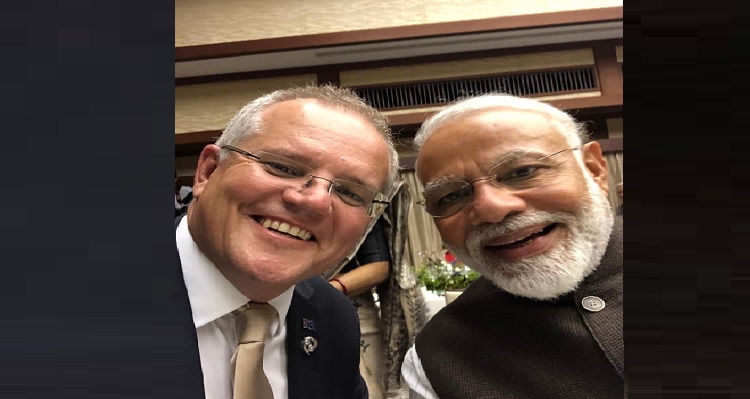 Australian PM Scott Morrison met Prime Minister Narendra Modi during G20 Summit in Japan and takes a selfie and caption it as "Kithana acha he Modi". Prime Minister Narendra Modi met Indonesia and Brazil President separately on the sidelines of G20 Summit in Osaka, Japan discussing enhance cooperation in trade and investment. Likewise, PM Narendra Modi met Australian PM Scott Morrison on the sideline of G20 Summit, where Scott Morris took a selfie with PM Narendra Modi and posted it on twitter.
https://twitter.com/ScottMorrisonMP/status/1144754448587079680
PM Narendra Modi replied to the selfie of Australian PM Scott Morrison. He said and I quote, "Mate, I'm stoked about the energy of our bilateral relationship!"
https://twitter.com/narendramodi/status/1144822260319920128
Earlier, Prime Minister Narendra Modi held discussions with the global leaders including US President Donald Trump, Chinese President Xi Jinping, and Russian President Vladimir Putin. Also, in a joint statement released, the three countries including India, Russia, and China have condemned terrorism in all its forms.
https://twitter.com/ANI/status/1144836490834395137
Prime Minister Narendra Modi met the President of Turkey. The final session of the G20 Summit held on a major topic like climate change and the environment in Osaka, Japan.
https://twitter.com/ANI/status/1144805252853637124
This was the for the first time that Prime Minister Narendra Modi met several world leaders after re-elected as PM after winning Lok Sabha Elections 2019 with a huge mandate.
-PTC News