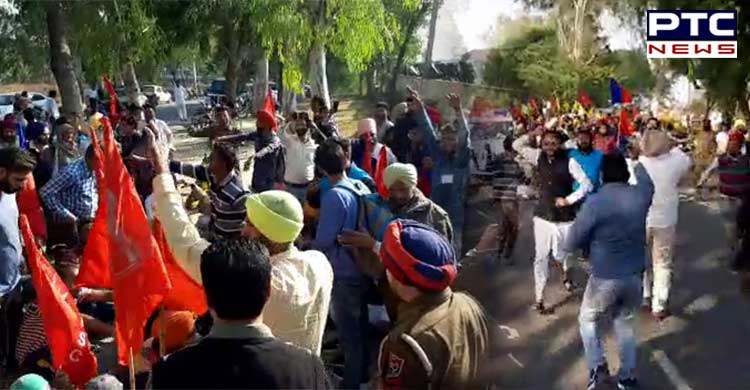 The activists of some Dalit outfits and social organisation staged a protest in Sangrur district of Punjab after a 37-year-old Dalit man, Jagmel Singh, died on Saturday. The victim was thrashed and forced to drink urine earlier this month. The protesters blocked the Lehra-Sunam road, as they demanded that the next of the kin of the deceased should be given a government job and his family should be provided a compensation of Rs 50 lakh.
A protestor said, "The family should be given justice, the accused should be hanged. A job should be given to the victim's wife and Rs 50 lakh comensation to the family."
Meanwhile, the police have already arrested four people in connection with the crime. Also, the victim's kin have refused to allow post mortem and to take the body until a government job is given to his widow. Also, they demand Rs 50 lakh as compensation. The dalit man left behind wife and three children, including two daughters.
https://www.ptcnews.tv/rajasthan-14-killed-18-injured-in-a-road-accident-in-bikaner/
The victim's wife told the reporters that they have not been approached by any government official. The victim was a resident of Changaliwala village.
On October 21, the victim got into an argument with Rinky and others over some issue, which was later resolved with the intervention of villagers. On November 7, the victim told the police that Rinku (accused) had called him to his house, where the two talked about the issue.
Allegedly, he was then thrashed by four persons with a stick and an iron rod after being tied to a pillar and he was forced to drink urine, when he asked for water.
-PTC News