Uttar Pradesh, March 6: Holi gift to sugarcane farmers – Uttar Pradesh Chief Minister Yogi Adityanath flagged off 77 tractors for farm machinery banks set up in cooperative sugarcane and sugar mill societies.
Yogi stated that, "Today is going to be a historic day for the sugarcane farmers when on the eve of Holi, Rs 2 lakh crores will be sent directly to the farmers' bank accounts through DBT."
Also Read: Pakistani drone spotted in Punjab, returns after BSF opens fire
He also stated that in the previous six years, no farmer in Uttar Pradesh became helpless and attempted suicide.
The Chief Minister added, "We have freed the sugarcane farmers from the brokers' clutches, and today the farmers do not have to wander around in search of the slip because their slip arrives on their smartphone."
He said that the state's 77 sugarcane committees are receiving tractors and other equipment today. The happiness of sugarcane farmers will be doubled by receiving such a gift on the eve of Holi.
"We all know what the condition of sugarcane farmers was earlier. Since Prime Minister Narendra Modi took office, the farmer has for the first time been included in any government's agenda and has begun to benefit from the government's programs. Every farmer who was previously dependent on moneylenders is now able to benefit from the Soil Health Card, Kisan Bima Yojana, Agricultural Irrigation Scheme, and Pradhan Mantri Kisan Samman Nidhi", CM Yogi said.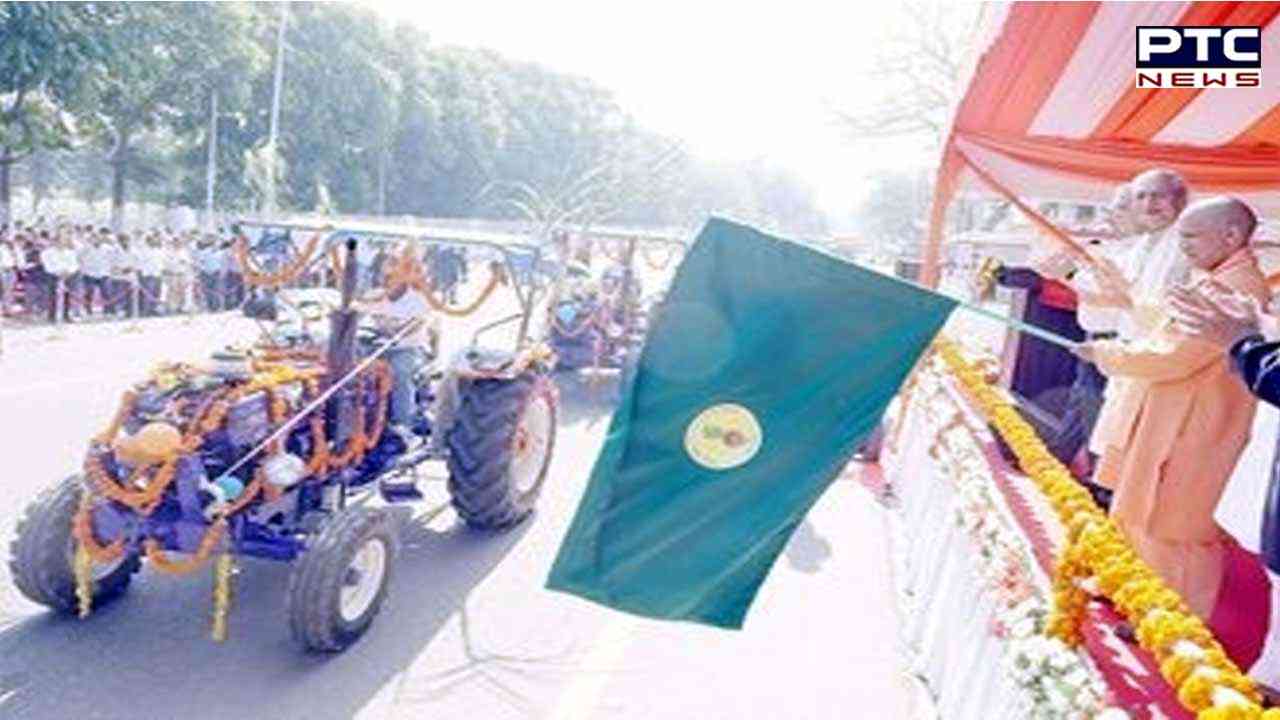 Mentioning that now 2.60 crore farmers in the state are taking advantage of the facility of the Prime Minister's Kisan Samman Nidhi, he said, "Within the last three and a half years, we have done the work of transferring an amount of Rs 51,000 crores to their accounts."
The CM went on to say that it is due to the efforts of sugarcane farmers that they are producing additional 10 tonnes of sugarcane per hectare. Apart from this, the area of sugarcane production has increased to 8 lakh hectares of additional land in the state today.

He also emphasized the situation of sugar mills and agriculture sector during Covid-19 period.
Notably, the maximum green ethanol is being produced in the country through sugarcane farmers.
The CM stated that Uttar Pradesh currently is the largest producer of ethanol in the country.
He said that due to mechanized farming, today the stubble is mixed with the soil instead of being set on fire, contributing significantly to the farm's fertility. Farming is being advanced through mechanization.
Also Read: Viral Video: Punjabi tourists creates ruckus at Gurdwara Sahib Manikaran in HP
CM Yogi stated that 105 of the state's 119 mills pay the sugarcane price within 10 days.
Meanwhile, Sugar Industry and Sugarcane Development Minister Chaudhary Laxmi Narayan, Minister of State Sanjay Singh Gangwar, Chief Secretary Durgashankar Mishra, Agricultural Production Commissioner Manoj Singh, Additional Chief Secretary Devesh Chaturvedi, Principal Secretary Home Sanjay Prasad were present on the occasion.
- ANI