New Delhi, October 04: The University Grants Commission (UGC) has recently unveiled a comprehensive list of alleged "fake" universities operating in India, aiming to alert students, parents, and education authorities to these institutions. This list contains nearly 20 universities, spread across various states in the country, that have been identified by the UGC as not meeting the criteria to be recognised as legitimate educational institutions.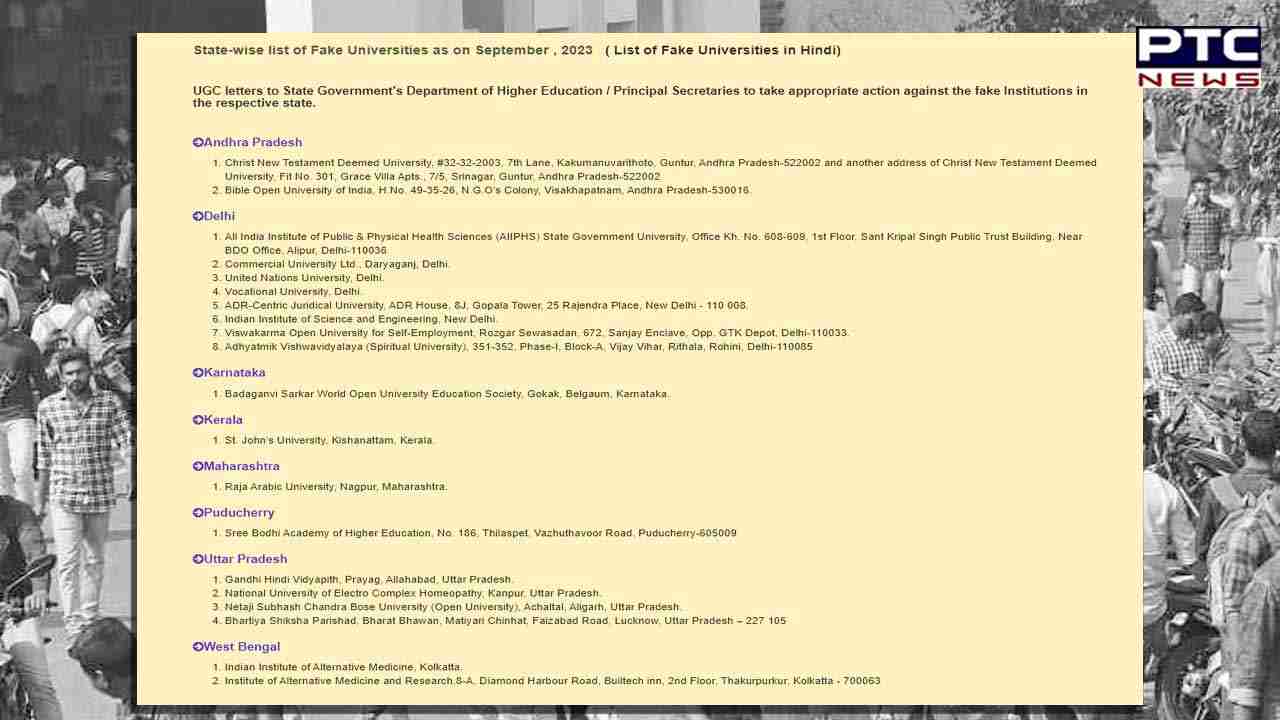 In an effort to curb the proliferation of such dubious establishments, the UGC has taken a proactive step by notifying state government departments responsible for higher education, as well as principal secretaries, urging them to take necessary actions against these illegitimate institutions. The UGC Secretary, Manish Joshi, expressed deep concern about the impact of these fake universities on innocent students, emphasising that these institutions were exploiting the term "University" without adhering to the requirements laid out in Section 2(f) or Section 3 of the UGC Act, 1956.
Mr. Joshi stated, "I would like to inform you that your institution figures in the list of fake Universities, as the institution is not a 'University' within the meaning of Section 2(f) or Section 3 of the UGC Act, 1956, but engaged in the business of conferring degrees or using the word 'University' with its name to defraud and cheat innocent students by awarding fake degrees. It has become a matter of concern as many students are becoming victims of the fraudulent act of your institution."
The UGC's decision to release this list of "fake" universities is part of a broader effort to protect the interests of students and maintain the integrity of higher education in India. These institutions are believed to be operating in violation of the UGC Act, 1956, and degrees awarded by them are not recognized as valid qualifications for higher education or employment purposes.
The UGC's list of fake colleges includes institutions from several states, including Andhra Pradesh, Delhi, Karnataka, Kerala, Maharashtra, Puducherry, Uttar Pradesh, and West Bengal. Among these states, Delhi stands out with the highest number of fake colleges, with eight institutions on the list. Some of the institutions named in Delhi include the All India Institute of Public & Physical Health Sciences, Commercial University Ltd, United Nations University, Vocational University, ADR-Centric Juridical University, Indian Institute of Science and Engineering, Viswakarma Open University for Self-Employment, and Adhyatmik Vishwavidyalaya.
To safeguard the interests of students and parents, education officials are urging them to visit the UGC's official website for comprehensive information about recognised institutions and, more importantly, to identify and avoid fake institutions before considering admission for higher education. This proactive measure is intended to ensure that students make informed choices and pursue legitimate educational opportunities while also protecting them from falling victim to fraudulent practices in the educational sector.
Also Read: Watch | Mahira Khan looks divine bridal elegance in stunning wedding photos
- With inputs from agencies
Join Whatsapp Channel