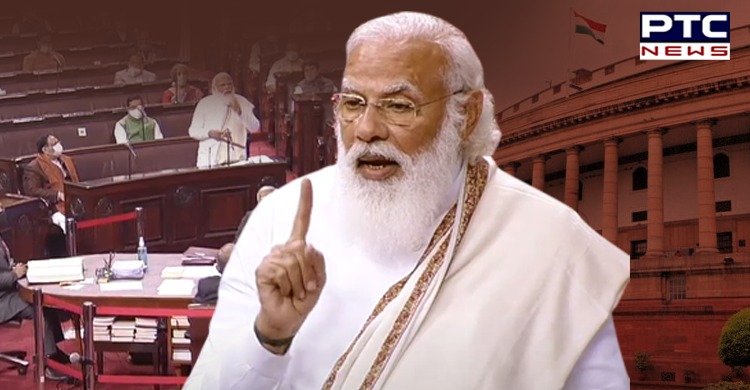 Prime Minister Narendra Modi on Monday, during his speech at Rajya Sabha, quoted former PM Dr. Manmohan Singh to slam those who are taking a "U-turn" over farm laws.

"Manmohan Ji is here, I'd read out his quote. Those taking a U-Turn (farm laws) will perhaps agree with him," he said.
Also Read | Uttarakhand Glacier Burst: 153 missing, 10 bodies recovered, 12 rescued
Quoting Dr. Manmohan Singh, PM Modi said that "There are other rigidities because of marketing regime set up in the 1930s which prevent our farmers from selling their products where they get the highest rate of return."

"It is our intention to remove all those handicaps which come in the way of India realising its vast potential at one large common market," said PM Narendra Modi during a speech in Rajya Sabha.
Also Read | Farmers Protest: Govt tells Twitter to remove 1178 Pakistani-Khalistani accounts
He further said that "Sharad Pawar Ji, and those from Congress, everyone... all governments have stood for agricultural reforms. Whether they were able to do it or not, but everyone has advocated that it should be done."
Likewise, he said that loan waiver does not benefit small farmers as they don't have bank accounts or take loans.
"Number of farmers with less than 1-hectare land has risen from 51 percent to 68 percent; 12 crore small farmers in the country," PM Modi said.
"We've forgotten the ideals of Netaji. We've started cursing ourselves. I sometimes get surprised, the world gives us a term and we start following it - 'Largest democracy of the world' - it feels good to hear this but we didn't teach our youth that India is the mother of democracy," he added.
Click here for latest updates on Education. 
-PTC News