New Delhi, February 23: The Assam Police on Thursday arrested Congress leader Pawan Khera. He would be presented in a Delhi court and taken to Assam on transit remand.
Earlier in the day, Congress leader Pawan Khera was stopped from boarding a plane at the Delhi airport after a request was received from the Assam Police to stop him, Delhi Police said on Thursday.
Also Read | National Education Policy: Education Ministry directs states, UTs to raise minimum age for admission to Class 1 to 6 yrs
"We will see (in which case they are taking me). It's a long battle and I'm ready to fight," said Congress leader Pawan Khera as the Delhi Police took him after he was deboarded from an aircraft at the Delhi airport.

Congress leaders also lodged a protest after Pawan Khera was stopped by the Delhi police from boarding the plane at the airport. In a video shared on Congress's Twitter handle, Pawan Khera said "he does not know why was he deboarded".

Congress leader Supriya Shrinate alleged that party leaders were on way to Chhattisgarh's Raipur to attend the party's 85th Plenary Session when Khera was asked to deboard. She accused the BJP government of "dictatorship".

"We were going from Delhi to Raipur by Indigo flight 6E-204. Pawan Khera, KC Venugopal, Randeep Surjewala was also with us. We were heading to Raipur for the Congress Plenary Session.

Pawar Khera was taken away stating that his bag has been exchanged but he was not carrying check-in baggage. He was then told that he had been deplaned and a DSP of CISF would come and serve him notice. If this is not a dictatorship, then what is it? Would you stop people from boarding the flight? The dictator got ED raids done before the session and now the government has come down to this kind of act," she said in a video tweeted by the Congress party.
"What wrong has he done that this action is being taken? The action is being taken under which sections, they will have to tell," she said.

KC Venugopal who was also accompanying the group, tweeted, "Modi govt is acting like a bunch of goons by deplaning @Pawankhera ji from the Delhi-Raipur flight and preventing him from joining the AICC Plenary. Using a flimsy FIR to restrict his movement & silence him is a shameful, unacceptable act. The entire party stands with Pawan ji."

"Today we were going for the Congress Plenary Session to Raipur, and our colleague Pawan Khera was told that he left his luggage but he was not carrying any luggage. Then the Police came and said Assam Police has registered an FIR," Congress leader Randeep Singh Surjewala said.

"We asked them to show an arrest warrant but they did not show any order. It is completely illegal Assam and Delhi Police have stopped our flight forcefully," Surjewala added.
Meanwhile, Indigo Airlines issued a statement, saying a passenger was deplaned and the flight has been delayed.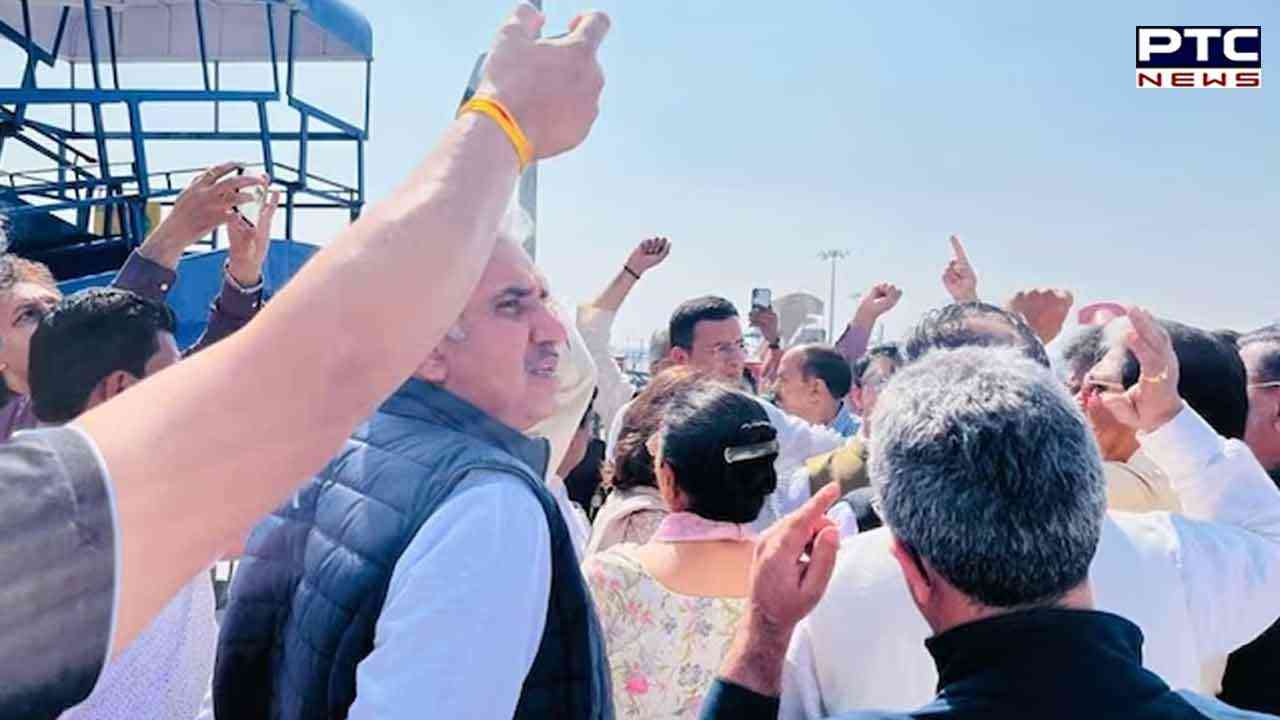 "A passenger was deplaned by the police at the Delhi airport from Raipur-bound flight 6E 204. Some other passengers have also decided to deboard on their own accord. We are following the advice of the concerned authorities. The flight is delayed as of now and we regret the inconvenience caused to other passengers," Indigo said.
However, there is no impact on others flight movements at the Delhi airport.
- With inputs from agencies