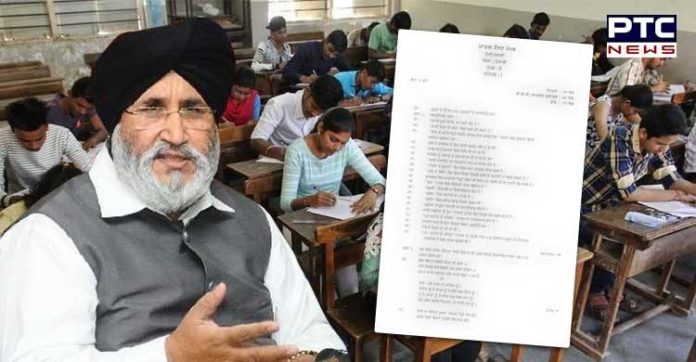 Punjabi must be made compulsory up to Matric for aspiring JBT candidates: Dr. Cheema
The Chandigarh administration has offered the choice of Punjabi medium to the aspiring JBT candidates in its latest recruitment drive for hiring 418 JBT teachers for the schools across the UT after this issue was raised by the Shrimomani AKali Dal (SAD), terming it a step-motherly treatment to the Punjabi, an official language of Punjab in its own capital Chandigarh, UT.
Also Read: Chd admin invites objections and suggestions from public on exempting ਸਿੱਖ women from wearing helmet
In a statement here, senior Vice –president of the SAD Dr. Daljeet Singh Cheema said that earlier Chandigarh administration had put an advertisement in newspapers for hiring of 418 JBT teachers for the UT schools which announced that the recruitment test to be taken only in English and Hindi. The SAD-BJP strongly objected to this decision and a high level delegation of the SAD-BJP led by SAD president S. Sukhbir Singh Badal protested against it by submitting a memorandum to the Governor of Punjab on October 16, 2018. "The SAD-BJP delegation termed it a 'sheer discrimination with Punjabi language' a mother-tongue of the people of the Punjab in its own capital, Chandigarh" he added.
The SAD leader said that rectifying it previous error, the Chandigarh administration has come up with an amended advertisement for recruitment of JBT teachers for the UT schools, which makes it categorically clear that the aspiring candidates can choose the Punjabi language as a medium for the recruitment test.
Also Read: Candle March Taken Out At Chandigarh Piccadilly Chowk To SAVE Punjabi Language
Welcoming the UT administration's decision to provide facility of Punjabi medium to the aspiring JBT candidates, Dr. Cheema also appealed to the authorities that the it should be made compulsory that Punjabi subject must be passed in the Matric by the candidates applying for the JBT posts in the UT schools.EOM
-PTC NEWS