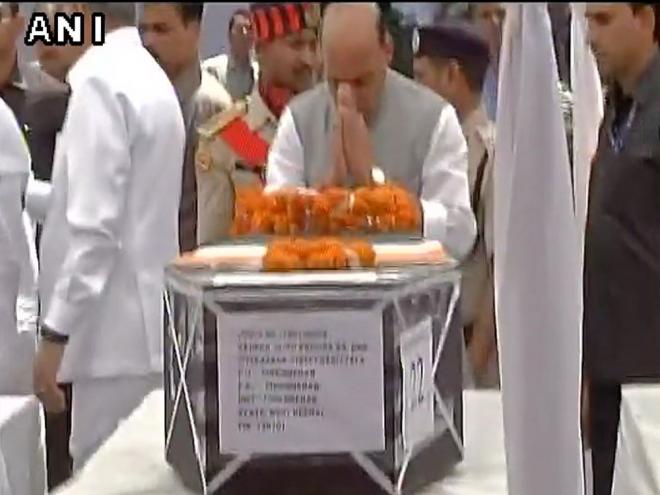 Raipur: Home minister Rajnath Singh today paid homage to the 25 CRPF personnel who were killed in yesterday's deadly Naxal ambush in Chhattisgarh.
Singh arrived in Raipur at around 10.30 AM and directly headed to the headquarters of the 4th battalion of Chhattisgarh Armed Force in Mana camp area where the wreath- laying ceremony was held.
Chhattisgarh Governor Balramji Das Tandon, Chief Minister Raman Singh, Union Minister of State for Home Affairs Hansraj Ahir and senior state and paramilitary officials were also present on the occasion.
Singh then held a meeting with the chief minister and other senior officials of the state.
At least 25 CRPF personnel were yesterday killed and seven wounded in Chhattisgarh's Sukma district, the deadliest ambush by Naxalites of security forces this year.
The nearly 100-strong CRPF patrol providing security for road construction work came under fierce gunfire from Maoist guerrillas occupying vantage positions, inflicting heavy casualties on the personnel.
The Naxalites mounted the assault in Kalapathar area of south Bastar region, one of the worst-hit by Left-wing extremism in the country.
— PTI