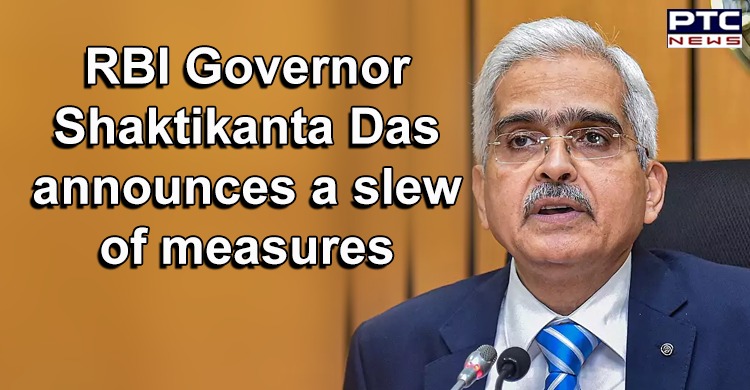 The RBI Governor Shaktikanta Das on Friday addressed media on the relief and recovery roadmap amid Coronavirus scare. He said that "Today humanity is facing the trial of its time, as coronavirus has gripped the world with its deadly embrace. In this kind of environment, the Reserve Bank of India (RBI) has been very proactive and monitoring the situation closely."

Adding, he said that "On April 14, the International Monetary Fund (IMF) released its global growth projections revealing that in 2020, the global economy is expected to plunge into the worst recession since 'The Great Depression'." He further said that "IMF Economic Counsellor has named it 'The Great lockdown' estimating cumulative loss to global GDP over 2020-21 at around 9 trillion US dollars, which is greater than the economies of Japan and Germany combined."

"Since March 27, the macroeconomic and financial landscape has deteriorated precipitously in some areas, but light still shines through bravely in some others," he added. Das said that "For 2020-21, the IMF projected sizable reshaped recoveries, close to 9 percentage points for the global GDP. India is expected to post a sharp turnaround and resume its pre-COVID, pre-slowdown trajectory by growing at 7.4% in 2020-21."
Here are some of the measures announced by RBI Governor Shaktikanta Das: 
3.2 percent of the GDP injected into the economy.
Automobile production, sales declined sharply in March while electricity demand has fallen sharply.
Contraction in exports in March is at 34.6 percent much more severe than global financial crisis of 2008-09. However, amidst all this, the level of Forex Exchange Reserves which we have continue to be robust.
RBI to announce new measures to maintain adequate liquidity in system and to facilitate bank credit flow, ease financial stress.
It has been decided to reduce the fixed reverse repo rate under liquidity adjustment facility (LAF) by 25 basis points from 4 percent to 3.75 percent, with immediate effect.
21.3% growth has been witnessed in tractor sales.
Banks have risen to the occasion, the projections are in sharp decline.
The economic situation has deteriorated.
Also Read | Rahul Gandhi comes up with suggestions to combat coronavirus [VIDEO]
We're likely to expect 7.4 percent growth in 2021-22.
ATMs are operating at 91 percent capacity.
50 Lakh crore to help small and mid-sized firms.
Special refinance package for Small Industries Development Bank of India (SIDBI) and National Bank for Agriculture and Rural Development (NABARD).
Repo rate remains unchanged.
Liquidity Coverage Ratio (LCR) requirement of SCBs is being brought down from 100% to 80%.
-PTC News