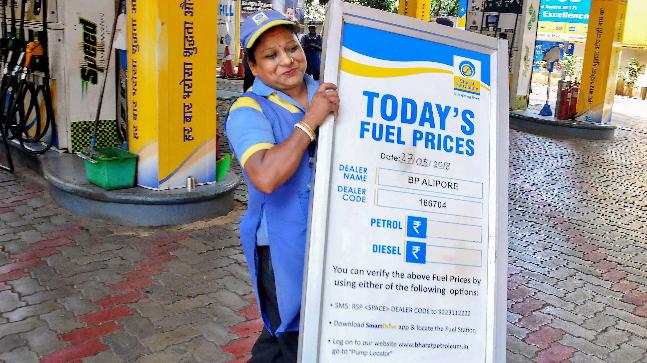 Petrol and diesel prices were brought down today, marking the first such reduction in the last 17 days.
The price of petrol on Wednesday is at Rs 78.42 a litre in Delhi, Rs 86.23 in Mumbai while diesel stood at Rs 69.30 a litre in Delhi, Rs 73.78 in Mumbai.
Diesel prices on the other hand are: Rs 69.30 (Delhi), Rs 71.85 (Kolkata), Rs 73.78 (Mumbai) and Rs 73.17 (Chennai).
There was major confusion earlier in the day with the first reports on today's price cut saying that petrol was 59 paise cheaper and diesel 56 paise. An earlier version of this report too carried prices reflecting that.
However, it later emerged that an error on the Indian Oil Corporation's website had led to incorrect prices of petrol and diesel getting reported.
An Indian Oil spokesperson told Reuters that the company website carried wrong prices due to a technical glitch.
The reduction comes after 16 consecutive price increases since May 14 when fuel retailers ended a 19-day pre-Karnataka poll hiatus to pass on a spike in global oil rates.
-PTC News