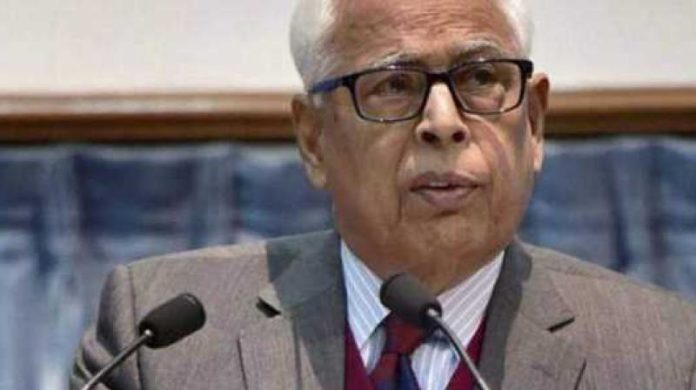 Trusted by several PMs, Vohra saw J&K overcome worst crises
Narinder Nath Vohra's long innings in public service spanning over six decades today came to an end when Satya Pal Malik was sworn-in as the 13th governor of the militancy-hit state.
Vohra, a 1959-batch Punjab cadre IAS officer, served as governor of Jammu and Kashmir for 10 years.
His tenure ended abruptly after the Centre on Tuesday announced to replace him with Malik, a career politician, giving Vohra virtually no time to pack up.
Malik was administered oath by Chief Justice of Jammu and Kashmir High Court Gita Mittal at Raj Bhawan in Srinagar, when Vohra was on his way back to Srinagar from Delhi after meeting Prime Minister Narendra Modi and Home Minister Rajnath Singh.
At 82, most people are well into retirement, ticking off to-do items from their bucket list, not Vohra. The career bureaucrat had been governor of the state since June 25, 2008.
He had remained the choice of the central government, irrespective of the party in power – mainly because of his expertise and knowledge of the domain and also due to his negotiating skills.
In June this year, he was handed the reins of the troubled state for the fourth time, after the Bharatiya Janata Party-Peoples Democratic Party coalition government collapsed.
Vohra found himself at the centre of a swirling storm of militancy, social unrest and political uncertainty, becoming responsible for the day-to-day administration and policy decisions of Jammu and Kashmir.
His latest term, which would also become his last, began when the Indian Army was continuing with its security operations.
Being the chairperson of India International Centre and the Tribune Trust, Vohra, according to officials, had expressed his willingness to demit office when his tenure came to an end on June 25, but he was asked to continue till the Amarnath Yatra concludes.
Recognised as a man who knows the pulse of the state, he was a trusted man on Kashmir for several prime ministers – Atal Bihari Vajpayee, Manmohan Singh and then Narendra Modi.
Just as he saw Jammu and Kashmir negotiate through its worst crises, including the agitation over transfer of 800 kanals forest land to Shri Amarnath Shrine Board in 2008, Vohra also witnessed the rise and fall of militancy in Punjab.
He was the home secretary of Punjab after Operation Blue Star in 1984, when the state was in the thick of a bloody struggle for a separate Khalistan and the Army stormed into the Golden Temple.
The following year, Vohra was instrumental in conducting peaceful elections in Punjab.
Some of his successes continued later in his career.
In 1993, soon after the serial bombings in Mumbai, Vohra was appointed Union home secretary. From 1990-1993, he was defence secretary.
After his retirement in 1994, he was part of a committee which studied the problem of criminalisation in politics and examined the criminal-politician-bureaucrat nexus in India.
His retirement was short-lived though.
In 1997, he was pulled out of hibernation to serve as principal secretary to then prime minister Inder Kumar Gujral.
The Manmohan Singh government, which came into power in 2004, continued with him.
In 2008, he was appointed governor of the state by the then UPA government and was reappointed in 2013.
Vohra was a member of the country's first National Security Advisory Board between 1998 and 2001, chairman of the National Task Force on Internal Security in 2000, and founder- co-chairman of the India European Union Round Table.
He has an avid interest in mountaineering and was president of the Indian Mountaineering Foundation between 1999 and 2006.
Vohra has edited more than a dozen books on governance and national security; he was awarded the second-highest civilian honour Padma Vibushan in 2017.
During his stint in Jammu and Kashmir, Governor's rule was imposed in 2008, 2014, 2016 and on June 2018.