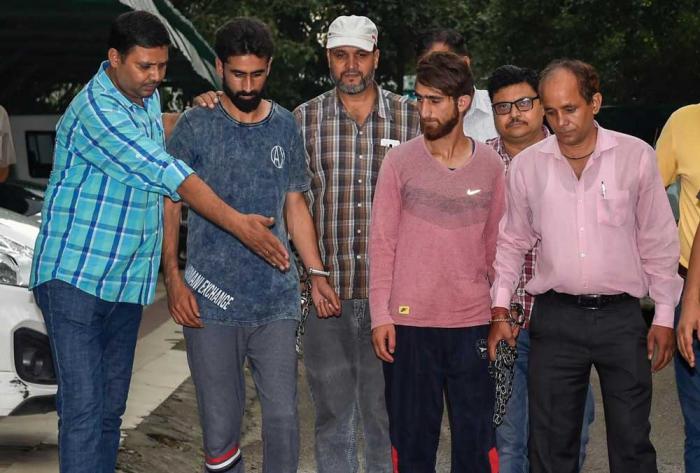 Two suspected ISJK terrorists arrested near Red Fort
Two suspected terrorists, affiliated to the Islamic State in Jammu and Kashmir (ISJK) organisation, were arrested from near the Red Fort by the Delhi Police's Special Cell, police said on Friday.
The duo, from Shopian in Kashmir, were identified as Parvez (24) and Jamshid (19). They were arrested from the Jama Masjid bus stop near the Red Fort, said P S Kushwaha, Deputy Commissioner of Police (Special Cell).
They were boarding a bus to return to Jammu and Kashmir when they were nabbed around 10.45 pm on Thursday.
The officer said the duo was using Delhi as a transit point.
Parvez's brother was a terrorist, who was killed in an encounter in Shopian on January 26 this year, he said.
Parvez is currently pursuing MTech from Gajrola in Uttar Pradesh and was inspired by his brother.
Jamshid is a final-year diploma student. He had also facilitated Mohammed Abdullah Basith's movement, who was arrested by the National Investigation Agency (NIA), the officer said.
This was their second trip to Delhi, they had gone from Amroha in Uttar Pradesh to Kashmir through Delhi in May.
Two .32 pistols and four cell phones were seized from the duo, who were working on the instructions of Omar Ibn Nazir and Adil Thokar, he added.
The officer said that they had no plans to carry out terror activities in the national capital and were using Delhi only as a transit point.
He said the ISJK organisation is at a nascent stage.
Also Read: UP Congress conducts written test for potential spokespersons