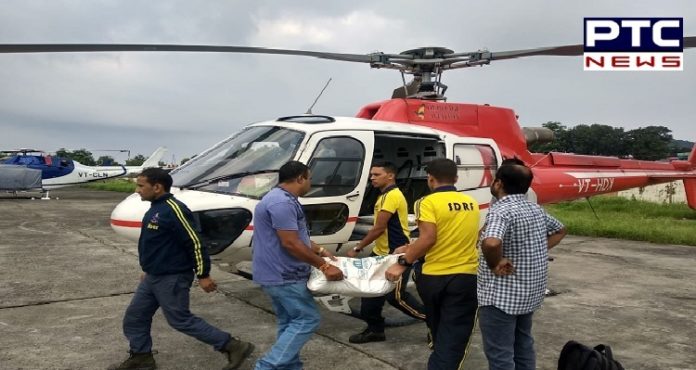 Uttarakhand Floods: The Indian Air Force has sent relief material on two IAF helicopters from Jolly Grant Airport in Dehradun to flood-affected Arakot in Uttarkashi district, on Wednesday. Food, water, and other relief material have been sent on two helicopters, from Sahastradhara helipad, in Dehradun. Uttarkashi has witnessed major havoc amid the cloudburst and the heavy rainfall. The death toll has risen to the 17 while, SDRF has launched the rescue operation.
Meanwhile, the India Meteorological Department has issued an alert as the widespread rainfall is predicted for the next three days. There are several villages in Uttarkashi which are massively hit by the cloudburst and the heavy rainfall. Therefore, to provide the people with relief, the Food, water, and other relief material have been provided by the Indian Air Force through helicopters.
Also Read: Punjab: Three Cheetah Helicopters takes 36000 parathas, 18000 litres water to 18 flood-affected villages of Shahkot, Jalandhar
Likewise, the Indian Army has sent two Cheetah helicopters with thousands of Paranthas and water for the 18 villages in flood-affected areas of Shahkot, in Jalandhar. The past few days have been really tough for the Northern areas as the floods have erupted in Himachal Pradesh, Jammu & Kashmir (Tehri river), Uttarakhand, Punjab and now Delhi is on alert. Meanwhile, 20 people have been missing in Sanel village of Mori block in Uttarkashi district, following an incident of cloudburst there. So far, 15 bodies have been recovered, while search operation is still underway.
-PTC News