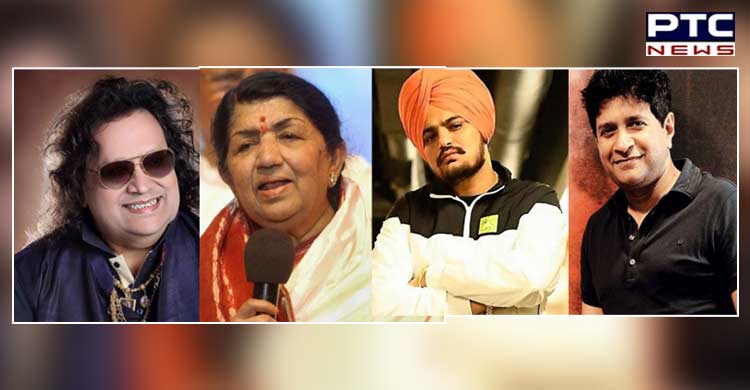 Chandigarh, June 21:  June 21 marks World Music Day 2022. Several renowned music personalities, including India's nightingale Lata Mangeshkar, singer and music composer Bappi Lahiri, Punjabi singer-rapper Sidhu Moosewala and singer KK, died this year.

Here is a look at the life and achievements of the iconic singers on World Music Day.
Singer Lata Mangeshkar died on February 6 due to a multi-organ failure. She will always be remembered for her songs such as 'Ajeeb Dastan Hai Ye', 'Ae Mere Watan Ke Logo', Lukka Chuppi and Tere Liye, among others. She was born on September 1929 and had an illustrious career spanning over seven decades.
Did you know?
Lata Mangeshkar belonged to a family of performers. Her father ran a theatre company, and Lata grew up with a love of music. Lata Didi was once reported as saying that she does not listen to her own songs as if she did, she would find a hundred faults in her singing.
Also Read | Punjab Roadways, PRTC contractual staff announce 'chakka jam' from June 23
Bappi Lahiri died due to obstructive sleep apnea in Mumbai on February 15. He was 69. He started his career as a music composer with Bengali film 'Daadu'. He's one of the early singers to introduce India to Disco.
Did you know? 
Bappi Lahiri's real name was Alokesh. He was born in 1952 in Calcutta in a family with a rich history and deep interest in classic and traditional music. Lahiri was trained in music by his parents Aparesh and Bansuri Lahiri. He was only three-year-old when he first started playing the tabla.
Punjabi singer-rapper Sidhu Moosewala was shot dead by assailants in Punjab's Mansa district on May 29, a day after his security was withdrawn by the Punjab Police among 424 others. He was born at Moosa village of Mansa district. He was highly influenced by American rapper Tupac Amaru Shakur. Moosewala started his career as a songwriter but he came to fame by singing songs like 'Issa Jatt', 'So High', 'Warning', 'Famous', Legend', 'Shots', 'Bambiha Bole', 'Game' and 'Tibeyan Da Putt' among others. He also featured in two movies — 'Moosa Jatt' in 2021 and 'Yes I am Student' again in 2021.
Also Read | Centre files caveat in SC on pleas challenging Agnipath scheme
Singer KK died at 53 on May 31. He was performing onstage in Kolkata. The singer fell ill during a performance at Nazrul Manch and was declared "brought dead" at local hospital.
Did you know?
KK sang over 3500 jingles in 11 languages before he got his break. He was the voice for ads with Hero Honda, Colgate, Nerolac paints, and several TV shows.
-PTC News