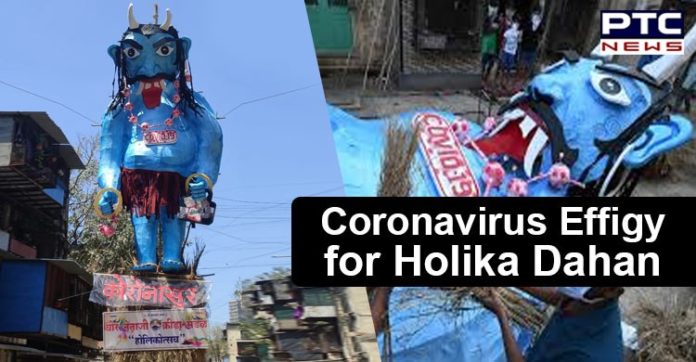 Holi eve, also known as Holika Dahan or Choti Diwali, when people burn the Holika (a bonfire), in an order to commemorate the victory of good over evil. This year, the excitement has been infected by the coronavirus. Therefore, an effigy based on the theme of coronavirus has been put up in Worli, Mumbai.

Coronavirus affects Holi
Amid growing concerns over Coronavirus, Prime Minister Narendra Modi decided not to be part of the Holi celebration this year. He took to Twitter and wrote: "Experts across the world have advised reducing mass gatherings to avoid the spread of COVID-19 Novel Coronavirus. Hence, this year I have decided not to participate in any Holi Milan program."

Afterward, the BJP President Jagat Prakash Nadda, Delhi Chief Minister Arvind Kejriwal are also among the other leaders who decided not to celebrate Holi and urged people to do the same.
Why Holi is celebrated?
There was a devil named Hiranyakashipu who was a king of daityas (devils) who had assumed himself as a god. His son Prahlada was a huge devotee of Lord Vishnu. He used to keep chanting Lord Vishnu's name. Hiranyakashipu forced Prahlada a lot not to worship Lord Vishnu instead worship him. However, Prahalad refused and decided to keep worshipping Lord Vishnu.
Also Read | 3-year-old boy tests positive for coronavirus in Kerala, total cases in India rises to 40
Therefore, Hiranyakashipu tried Saam Daam Dand Bhed to get his son killed. However, every time Prahlada used to escape death. Meanwhile, Holika, sister of Hiranyakashipu, who was gifted that she could never be burnt, took Prahlada and got settled on fire. However, Prahlada kept chanting Lord Vishnu's name and as a result Holika died but Prahlada survived.
-PTC News