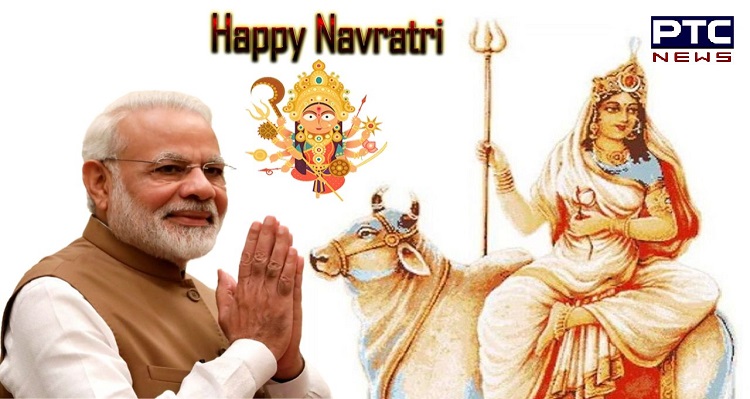 Navaratri 2019 begins on Sunday, where nine days are dedicated to nine different forms of Goddess Durga. Among these nine days, the first day of the Navratri is dedicated to Goddess Shailputri, who was born to the King of Mountains. She is worshipped on the first day of Navrati, who rides Nandi, a bull with a Trishul in her right hand and lotus flower in her left hand.
https://twitter.com/narendramodi/status/1178128358351048704?s=20
Also, she is referred to as Goddess Parvati, the wife of Lord Shiva and mother of Lord Ganesha and Kartikeya. Goddess Shailputri is worshipped as the goddess of the Muladhara chakra or Root chakra. It is considered auspicious to wear yellow clothes while worshipping Goddess Shailputri. During the worship on the first day of Navratri, this mantra (Vandē vāddrichatalābhāya candrārdhakr̥taśēkharāma | vr̥ṣārūḍhāṁ śūladharāṁ śailaputrī yaśasvinīm) is chanted.
Also Read: Shilpa Shetty Kundra's Son is with Dahi Handi on Janamashtami
Meanwhile, Prime Minister Narendra Modi extended wishes to the nation and said, "Many congratulations to all of you on Navratri, the holy festival of worshiping Shakti. Mother Durga, let us all infuse new energy, new zeal and new enthusiasm in our lives. Jai Ambe Jagdambe Maa!" Likewise, Union Minister Amit Shah said, "The worship of power is the core of Indian culture. Heartfelt greetings to all the countrymen of 'Navratri', a sacred festival of Shakti worship and resolve. Jai Mata Di!"
-PTC News